Police are still investigating an incident in Harrison, Arkansas that was videotaped on a dash camera.
In a scene sure to terrify every parent, the back door of a bus – traveling along a busy highway – sprang open and a young 4-year-old girl tumbled out onto the road.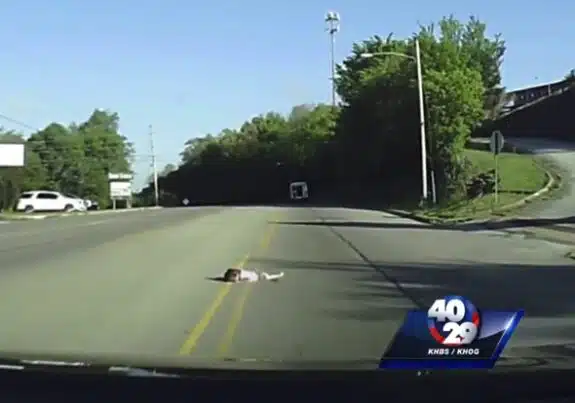 A trained emergency medical technician was in the right place at the right time. Ryan Ciampoli was driving behind the bus and managed to capture the incident on his dash cam. The camera is sometimes in use when Ryan is on professional duty. Ciampoli was shocked when the tiny child flew out of the bus, but he braked and pulled over to run to her aid.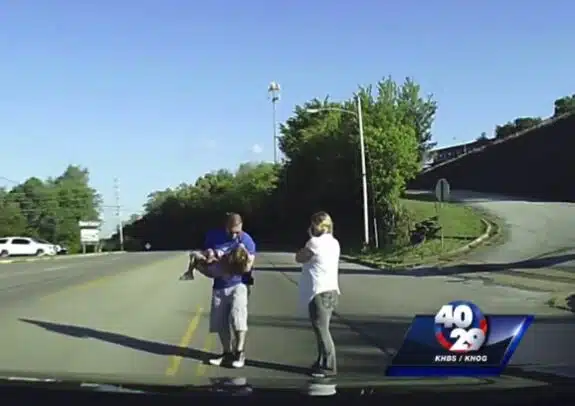 At first the little girl was unconscious, but Ciampoli cradled her and talked to her. He says that "for a very brief time she regained consciousness enough to ask for her mommy."
As a medical technician, Ryan knew that he shouldn't move the injured child. But in this case, she was in more danger lying in the middle of a busy state highway. He picked her up off of the hot pavement and moved her to the shoulder of the busy road to wait for emergency medical services to arrive on-scene.
It's not yet known if the bus door was unlocked, defective, or if the child opened it herself.
The little girl suffered a broken jaw from her fall and will undergo surgery. She is recovering from other bumps and bruises in a local hospital.