According to a recent study, a child is treated in a United States emergency room every six minutes because of a stair injury. This is a definite decrease when compared to the numbers in previous years. Experts say, however, that the numbers are still too high and they feel that more education is needed to prevent stair-related injuries in children.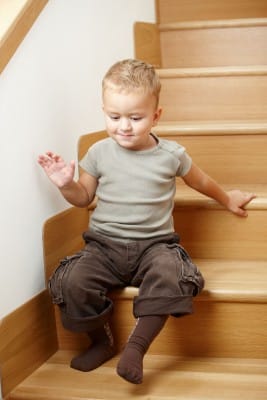 "Stair-related injuries are on the decline, but still represent an important source of injury to young children," said researcher Ashley Zielinsky of the Center for Injury Research and Policy at Nationwide Children's Hospital in Columbus, Ohio. "Increased prevention efforts are needed, including parental education and improved stairway design."
In the study conducted by Zielinsky and her colleagues, more than 93,000 children under the age of 5 were treated for stair-related injury between 1999 and 2000. Approximately a quarter of those injuries involved children under a year old being carried on the stairs. Researchers concluded that these particular children were three times more likely to need hospitalization than those that had been injured on the stairs in some other way.
As for the remaining stair-related injuries, researchers found that 16% of the children fell down the stairs while in a walker. Approximately 10,000 children were injured while being carted on the stairs while in a stroller, most of which were strapped into their seats when the incident happened. The remaining stair-related injuries involved children that fell down the stairs on their own.
Researchers also indicated that stair gates are not enough to prevent injury. While they may serve as a deterrent and may help reduce the chances of an injury on the stairs, they are not a viable substitute for adult supervision. Additionally, researchers suggested that parents opt for stair gates that affix to the wall to reduce the likelihood of the gate falling or being knocked down by the child.
Another concern is the number of injuries that occurred while carrying a child on the stairs. Researchers recommend that parents avoid using stairs while carrying a child, if at all possible. When stairs are necessary, the child should not be transported on the stairs by means of a stroller or carriage and the child should be the only item carried. The hand not carrying the child should be holding on to a hand rail for added support.
As for general stair safety, all stairs should be free of toys or other obstructions. If you have stairs in your home, you should check them regularly for potential hazards, such as carpet that is pulling away or broken stairs.
Related Articles:
---