Months of a back-and-forth battle ended happily for a 9-year-old Chandler, Arizona boy who suffers from Asperger's Syndrome.
On Thursday, the Gill family learned that their son Julian can keep his therapy pig, Maggie. In August, a neighbor filed a complaint with the city and the family was notified that they were in violation of city code since pigs and other livestock are not allowed in residential neighborhoods. The Gills argued that Maggie is not livestock: she is an emotional support animal for their son.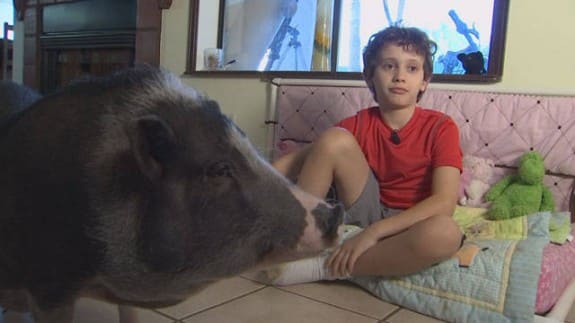 Asperger's Syndrome is a developmental disorder marked in part by difficulty socializing. Because of his condition, Julian has had difficulty making friends at school and is prone to periods of excitement. But the little boy is intelligent and speaks and functions well. His mother Arlene says that Maggie has had a calming effect on her son, and is both Julian's best friend and his emotional support.
"She doesn't judge him," Arlene told KPOU.com, "she doesn't laugh at him or make him feel uncomfortable when he does things differently than everybody else." Maggie is a 70-pound mini Vietnamese potbellied pig. Julian depends on Maggie and says "When I'm sad, she goes near me and makes me happy." Maggie has lived with the family since shortly after her birth and been an important part of Julian's life for more than three years.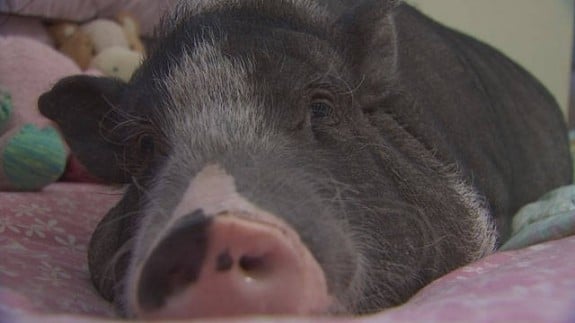 The neighbor complaint stated that Maggie was a nuisance and was causing an insect problem, a claim the Gills dispute. Originally the family was told that Maggie would have to vacate their home by August 20, but they were granted an extension when they asked the city for more time to work through the issue.
With the help of attorney John Schill, the family filed a reasonable accommodation request under the Fair Housing Amendment Act. Schill was able to meet with city officials and explained that Maggie was protected under federal housing law. Attorney Schill says that Maggie is protected because "she is an emotional support animal, so this is not a zoning issue."
Schill and the Gills were given until October 23 to submit information meant to assist the city in evaluating the situation. And finally, the family's worry and uncertainty is over.
Maggie can stay with Julian.
---
[ad]