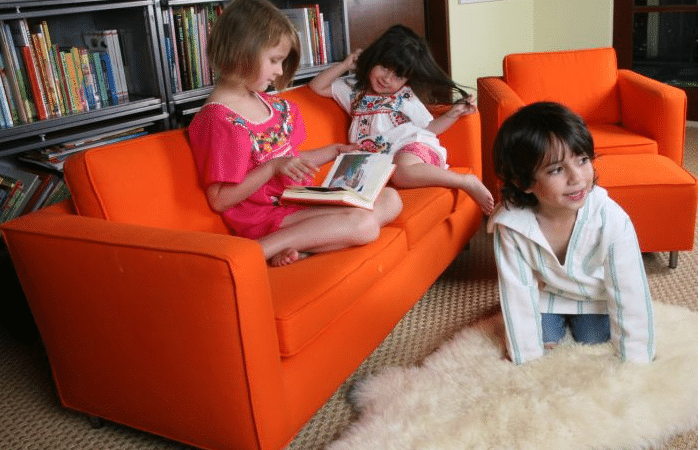 Talk about 'sitting pretty!' Designer Jennifer DeLonge knows a thing or two about creating quaint perches for kids. Her children's seating collection features gorgeously designed, sleek and modern miniature chairs and sofas that boast sophistication while retaining child-like whimsy and comfort.
DeLonge's Ava toddler chair & ottoman are the flagship pieces of her children's collection. Hip, design-savvy families will adore this chair. Sized for ages 1-4, Ava comes in your choice of microsuede, cotton or vintage fabrics — or you can choose your very own fabric to make it match the one-of-a-kind quality of its lucky recipient!
Once your tot outgrows the Ava toddler chair, she can rest assured a larger version awaits! The Ava child chair and ottoman are crafted for ages 4 and beyond — offering even more room to showcase all that style.
The Ava child sofa is the ideal landing spot for kids who want a space all to themselves. Perfect for cuddling up for a snooze or to read a book, this sweet sofa will become an instant childhood favorite.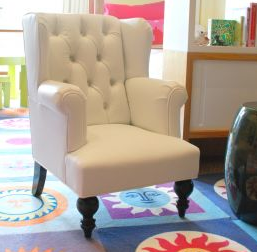 But the piece de resistance of the collection is the wing-back Parker child chair which looks like a literal throne for your little prince or princess. Available in white or black vinyl and featuring polished black decorative legs, it is sized for ages 4 years and up, but we're certain plenty of adults will try to reign from this decadent chair.
Jennifer DeLonge's children's furniture collection is made in the USA. Chair and sofa prices range from $299-$829 depending on fabric selection. – Beth, staff writer
---
[ad]