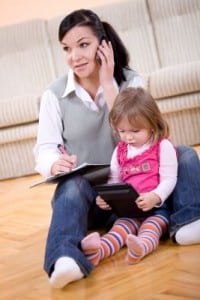 While many studies have uncovered the positive aspects of being a working mother, a more recent study regarding the nutritional and exercise needs has some working mothers rather upset.
In the study, published in the online issue of the journal Economics and Human Biology, researchers analyzed nearly 25,000 mothers and their families. According to the data, moms who work full-time spend roughly three-and-a-half fewer hours than stay-at-home moms tending to the nutritional and exercise needs of their children: 17 fewer minutes cooking, 10 fewer minutes eating with their children, 12 fewer minutes playing with them and 37 fewer minutes of direct care. This remained true regardless of mother's education level, age or income, and the difference was generally greatest in mothers with children under the age of five.
Unfortunately, fathers didn't pick up the slack here. Fathers who were employed spent only 13 minutes per day cooking and playing with their children, and non-working fathers contributed only 41 minutes to these same activities. This recovers only about 15 percent of the time deficit for the children of working moms.
"It seems men are not doing much extra work," said John Cawley, lead investigator of the study.
And sadly, the "blame" for the problem is likely to fall with the mother. Cawley says, however, that the object of the study wasn't to point the finger at working mothers (or fathers for that matter), but rather to further examine the reasoning behind why children of working mothers are more likely to suffer from obesity. Still, data like this is likely to put working moms on the defense, and for good reason.
"Instead of giving her credit for giving birth to a healthy child, then frantically trying to also provide financially for her family, keep a roof over their heads, clothes on their backs, educational books on the shelf, we make working moms feel bad about not having time to make a healthy meal," said Antoinette Rodriguez, a financial advisor in Manhattan and mother of a 7-year-old daughter. "I get the sense that working father don't sweat the small stuff as much as moms. But then again, they're not judged for it."
Parenting blogger for Babble.com and mother of a 3-year-old son, Beth Anne Ballance, says that these types of studies are often interpreted as a failure on the mother's part, but says that she feels that a study like this one also points out the lack of effort on the father's part.
"Despite the progress we've made as a society, despite women's equality, we still look to women as the main nurturers of children," Ballance said. But in respect to fathers, she said, "He's a parent, not a babysitter, so he's just as responsible for choosing healthy foods and encouraging activity in our kid."
It's also worth noting that the study failed to take into account the benefits of having a working mother in the home, such as financial advantages and setting a positive example for children. Additionally, the study fails to look at the quality of all ready-serve meals. Most of all, there is no proof that work is actually the driving force behind the lack of time devoted to health and nutritional needs.
Cawley also says that his research falls short of determining why fathers don't pitch in more: is the increased income used to hire someone for extra caregiving responsibilities, or are fathers unwilling or unable to increase their time devoted to household tasks when their wives work?
"I don't like phrasing the question as whether working moms contribute to the problem. I think it's modern life that contributes to it," Cawley said. "The question is what can families and schools do to promote child health given the changes in modern life?"
In respect to the parents, Cawley says that parents can better educate themselves on the nutritional content of the food they're feeding their children, be it a home-cooked meal or a take-out meal.
"In order to make more informed decisions, consumers need to have nutrition and calorie information available where they buy their food," he said, adding that fast-food and chain-food restaurants will soon have to provide calorie counts on all of the foods they sell.
Cawley also suggests that schools take on some of the responsibility, a suggestion that the Institute of Medicine and the Centers for Disease Control and Prevention have already made.
"Of course, we can't ask schools to do everything, but there are some obvious easy changes they can make, such as switching from easy-to-prepare popular foods in the cafeteria to healthier, more nutritious foods, and providing more opportunities for kids to get physical activity throughout the day."
At the end of the day, we have to know that we are trying our hardest with our children; we can only do so much. If, however, we are aware of and can see a problem for what it is, we can take a proactive approach to making changes, even if they are small at first.
Related Articles:
---
[ad]