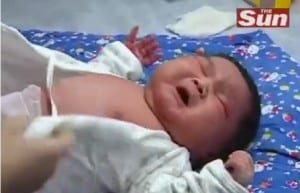 A Chinese mom has broken a record by welcoming a whopping 15.5lb baby boy, making him China's heaviest baby on record.
Born twice the size of an average newborn, Chun Chun arrived on Saturday in the Henan province of China just after the start of the Chinese New Year, which kicked off on January 23.
The year of the dragon is considered a particularly lucky time to have a child, as proud father Han Jingang explained:
"My wife was not different from other pregnant women.  She ate and drank normally as she should.  But she's given birth to such a big, fat son.

"Today is the first day of spring in the Chinese calendar and he's a 'dragon baby'.  I feel very happy."
The new mom Wang Yujuan told a reporter she felt different with this pregnancy than she did with her daughter, who weighed just over 8.8lbs at birth.
"I clearly felt that my body was more clumsy than when I had been pregnant with my daughter.  My belly was bigger than it was then.  I guessed the baby would be between ten and 11lbs.  I never expected to hear that he weighs 15.5lbs."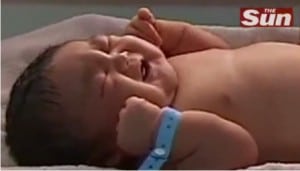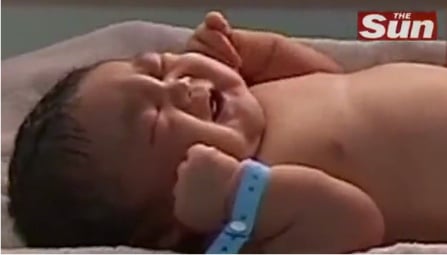 Shang Lili, Head of the Obstetrical Department of the local Maternity and Childcare Service Centre said:
"A normal baby should weigh about 6.6 to 7.7llbs.  This baby is twice as heavy as a normal one."
Just last week Kendall Stewardson welcomed at 13.3lb baby au natural and China has definitely had a few babies in the past who have tried to break the record. Between 2008 and 2010, three babies weighing exactly 15.4lbs were born in China.

Related Articles:
---