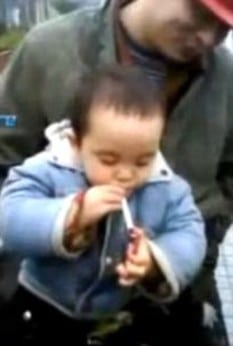 Yes! You read that right. Tong Liangliang was taught how to smoke by his father, who believed the habit would alleviate pain caused by a hernia.
The toddler now smokes a pack of cigarettes a day and throws a tantrum if he can't get his fix.
'The father wasn't aware of how serious the toddler's habit became until the child began to increase the number of cigarettes he smoked per day', China Radio International reported.

Tong received his first cigarette at the age of 18 months in a bid to reduce the discomfort caused by his hernia. The boy's tender age meant he was too young to have an operation.
Ridiculous!!!!!
A. What is he smoking to cure pain?
B. My son had a double hernia operation when he weighed 6lbs…
This little guy could die from lung cancer before he's old enough to start school. Someone needs to be taken away from his enabling parents and taken to rehab.
---