Near a cemetery in China, a newborn baby was abandoned, buried alive in a cardboard box at what can only be seen as an unmarked grave. But eight days later, that child was rescued. Miraculously, he survived and is currently in the hospital recovering.
Authorities suspect the child was abandoned because he was born with cleft lip and cleft palate, a congenital defect that can be treated with the help of plastic surgery. A woman, Lu Fenglian, had been the first to hear the boy's faint cries while walking through the woods. She ran to find help. A priest returned with her, confirmed and identified that the cries were coming from a baby. The two then sought help from the police to uncover the baby.
Police arrived and found the baby. Inside the cardboard box he'd been buried in were clothes and blankets. Rain had softened the box and allowed mud and water to seep inside. Though it is thought that the rain helped to keep him hydrated, he also happened to swallow much of the mud and was coughing it up after being rushed to the hospital in critical condition.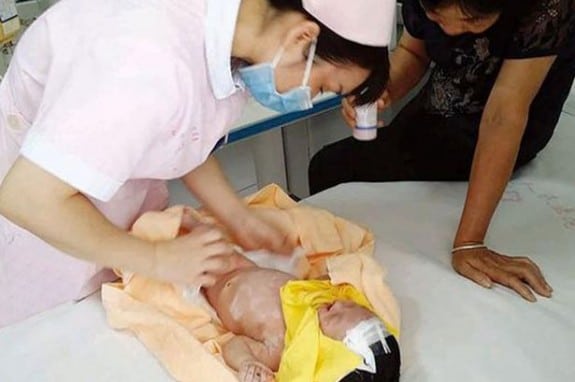 His vitals are now stable, and he no longer has to be in an incubator as he did when he first arrived, but there is still a long road to recovery ahead of this little guy. There have been several arrests in the case, including the child's grandmother, some coffin shop owners, three family members, and two cleft lip baby parents. However, there is a lack of evidence at this point.
Authorities are talking about pressing intentional homicide charges against maybe some of the parties involved. Though he had been alive when they buried him, their intent to allow the baby to die and suffer in the wilderness alone may justify these higher charges. It is still unclear as to what charges may be faced by any of the other parties involved.
It's also unclear what this baby boy's fate will be. Though he is recovering, he will have special needs, including the help of a plastic surgeon and possibly other specialists. Reporters say that several local families have stepped forward and expressed a willingness to adopt the boy. Only time will tell for sure where he will go, but one thing is for certain – this little boy is a living, breathing miracle!
Related Articles:
---
[ad]