Exciting news for women who were born without a uterus, or had to have it removed prematurely – a team of Cleveland Clinic surgeons have performed the nation's first uterus transplant during a nine-hour surgery.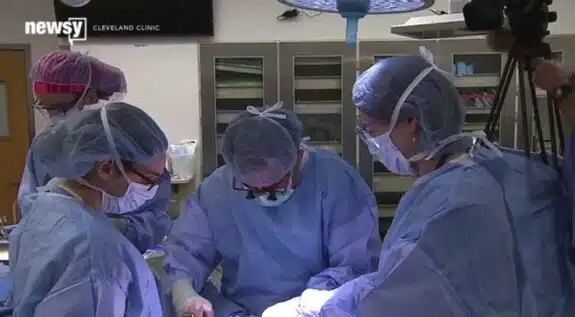 Until now, surrogacy has been the only option for women with uterine factor infertility (UFI) or conditions that cause the uterus to no longer function.
While Swedish doctors successfully transplanted nine uteruses 3 years ago, the rest of the world has been slow to adapt the procedure.
The Cleveland Clinic's chairman of obstetrics and gynecology, Dr. Tommaso Falcone, was able to observe and research the uterus transplant process while on a 2013 trip to Sweden. He had read early research about uterus transplants more than 10 years earlier but was skeptical. During his trip 3 years ago he came to understand how much pregnancy meant to couples he spoke to and became determined to make a similar program possible at his Clinic.
In Sweden, the nine transplants, lead to five pregnancies and four births.
Last year the Cleveland Clinic began screening candidates for uterus transplants. The team is currently looking for a total of 10 suitable candidates between the ages 21-39 years that suffer from UFI.
The team will then stimulate the woman's ovaries to produce eggs, fertilize them and then freeze the 10 to be transferred into the donor womb after transplant.
The Swedish program uses wombs from relatives, often the recipient's own mother. In the US – as well as the UK – the womb donors are either deceased or clinically brain dead.
A year after the transplant is successful, the embryos can be thawed and implanted, one by one, hopefully leading to a successful pregnancy.
The mom-to-be will be carefully monitored during her pregnancy for hypertension, preeclampsia, intrauterine growth restriction, premature rupture of membranes, preterm delivery and intrauterine fetal demise.
She will continue to take anti-rejection drugs, and the baby will likely to be delivered via cesarean section.
It is estimated that one in about 4500 newborn girls are born with ovaries but no uterus. Hopefully this program will help them become parents.
---