UPDATE March 10, 2016: Just a day after doctors at a Cleveland Clinic held a press conference introducing the first U.S. recipient of a donor womb, the woman suffered a sudden complication that required surgical removal of the uterus. The patient, identified only as Lindsey, is recovering from that operation. Doctors are now trying to determine what went wrong.
In a statement Lindsey she said her doctors "acted very quickly to ensure my health and safety. Unfortunately, I did lose the uterus to complications. However, I am doing okay and appreciate all of your prayers and good thoughts."
ORIGINAL Story: 2016 truly is the year for scientific and medical leaps and bounds. Last month a Cleveland Clinic revealed that they had completed it's very first uterus transplant, something that can potentially give many women hope.
The Cleveland Clinic, where the procedure was completed, screened more than 250 women that were either born without a uterus or had uterus abnormalities that would block pregnancy, before settling on a short list of suitable candidates.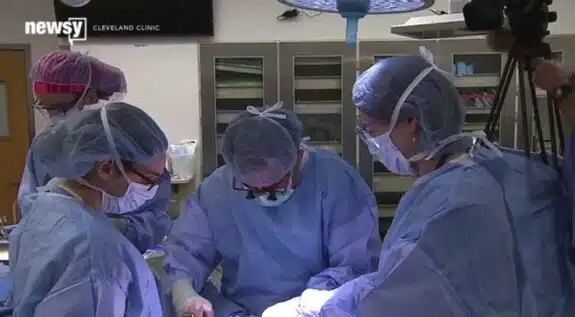 Yesterday it was announced that a woman named Lindsey was chosen as the first of ten recipients.
The clinic's transplant was built around uterus transplants done in Sweden, where nine were performed, resulting in five successful pregnancies. Unlike Sweden, which used live donors, the doctors at Cleveland Clinic used the organ from a deceased donor, in order to minimize risk to everyone involved in the process. The team of specialists did have ethical reservations, like whether or not it would be worth the risk when there are other options like adoption or surrogacy. Technically, it wasn't a life-saving transplant, as with a heart or kidney.
The team, after years of research, found that anti-rejection medications are safe during pregnancy, and knowing that surrogacy and adoption aren't an option for all women, they went ahead with the surgery. Lindsey must wait one year from the surgery, along with going to regular medical check-ups before attempting to conceive a child through in vitro fertilization. Dr. Rebecca Flyckt, a Cleveland Clinic surgeon said, "We must remember a uterine transplant is not just about surgery and about moving a uterus from here to there. It's about having a healthy baby."
Lindsey, a mother of three boys, all of which were adopted through foster care, spoke up just a few days ago, saying, "I want to be open and honest and to share my story." At 16 years old she was told that she would never be able to bear children. She said, "From that moment on I've prayed that God would allow me the opportunity to experience pregnancy, and here we are today at the beginning of that journey."
"I crave that experience," she added. "I want the morning sickness, the backaches, the feet swelling. I want to feel the baby move. That is something I've wanted for as long as I can remember."
Dr. Ruth Farrell, an obstetrician-gynecologist at Cleveland Clinic said, "We hope this gives women better options." Dr. Tomasso Falcone, chair of the clinic's Women's Health Institute described the feeling in the operating room after the transplant was finished, saying, "This is something we've wanted to do for a long time. The experience was euphoric for us."