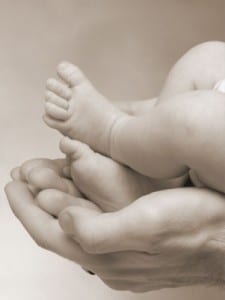 When a nine month pregnant woman was hospitalised over the weekend a hospital in Kuwait, doctors soon declared her to be clinically dead owing to her critical condition. But as soon as the baby was delivered by emergency C-section, the mother 'miraculously' came back to life!
According to a report by Kuwait's state-run Kuwait News Agency (KUNA) the 36 year old expectant mom was admitted to the Al-Farwaniya Hospital in Kuwait at around 3.00 am on Friday.
"As soon as the woman was first checked up, she was declared clinically dead, thereby the maternity division of the hospital was put on the alert for a Caesarean," said Dr. Mohammed Hassan, who sponsored the operation.
She was neither breathing nor recorded any heart beat according to Hospital director Dr. Humoud Al-Zo'abi.
He said, "Physicians battled to rescue her life until their effort proved successful."
The doctors had about five minutes to deliver the baby. Because they thought that the mother was dead, they also avoided using anesthesia. But just as the baby boy was born his mother was also resuscitated.
"A healthy 3.1-kg boy was born simultaneously with his mother's resuscitation," Hassan said.

"This is a scientific miracle at all levels. As soon as the woman was checked and declared clinically dead, the maternity division of the hospital was put on alert for a Caesarean. The woman and her baby are now in stable condition," he added.
This is one story of a baby born and a mother re-born that would be often told in this family.
---
[ad]