Whether you use cloth diapers and need a suitable diaper for the beach, or your municipal pool requires a cover over a disposable swim diaper, with one of these swim diapers your little one is sure to have the cutest bum in the water!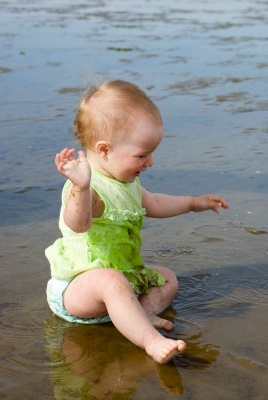 All swim diapers are generally constructed in similar ways. Most have 2-layer construction, elasticized legs and either a type of closure or are pull-on style. Swim diapers are cute enough to be worn on their own, but can also be worn under a swimsuit to protect against accidents.
Below are 8 fun, functional, green options for swim diapers: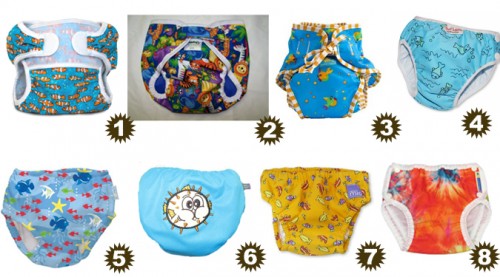 Bummis Swimmi

($12.75)

– Made with a mesh lining for easy cleanups, and a coated interior nylon layer to keep in any messes, the Bummis Swimmi is a great option as a swim diaper. Swimmi comes in a variety of fun, unisex prints, has a widely adjustable hook and loop closure, and soft lycra bindings at the legs and back.
Gabby's

($15.95 CDN)

– A popular Canadian-made swim diaper, constructed with an outer layer of nylon Oxford and an inner layer of 100% cotton flannelette. Elastic at the legs and back and a hook and loop closure ensure a snug fit. A unique hook and loop belt-lock system prevents the diaper from accidentally opening. Gabby's swim diapers also come in a pull-up option.
Kushies ($10.99) – Made with 100% lightweight, quick drying nylon, the Kushies swim diaper is a great option. It combines a 100% waterproof nylon outer shell with a 100% cotton terry middle layer, and a soft polyester mesh inner layer with comfortable Gussetted legs that are designed to hold in solid waste.
Imse Vimse

($13.70)

– Imse Vimse's swim diaper is made of a nylon outer with a soft polyester lining. The legs and waist are wrapped in fold-over elastic to keep messes in, and the side snaps make changing easy.
i play

($10.99)

– The i play swim diaper has a 3-layer design with a waterproof outer layer, an absorbent middle layer and a wicking inner layer. The i play swim diaper is pull-on style, with elastic around the waist and legs. While the i play swim diaper is designed to be worn alone, it can also be worn over a disposable.
Monkey Doodlez

($20)

– Monkey Doodlez swim diapers are a pull-on style swim diaper with a two layer construction. The outer layer is available in a number of colors and fun animal appliqués, and the inner layer is soft polyester fabric for comfort. Water can move freely through the diaper, so little ones will never get weighed down, but messes are securely contained. The waist and legs are finished with soft fold-over elastic.
Bambino Mio

($16.95)

– The Bambino Mio has a waterproof layer and a soft cotton lining that is next to baby's skin. Elasticized, leak-proof legs and waist make this a trim-fitting pull-on swim diaper that is easy and convenient. It is not designed to go over a disposable diaper.
Mother-ease Swim Diaper ($14.95) – This swim diaper is constructed of a stretchy swimsuit-material outer and an elasticized "poop-catcher" inner. This unique design allows water to escape while keeping accidents securely contained for clean-up. Elasticized waist and leg bindings as well as adjustable plastic snaps round out this lightweight comfortable swim diaper. They are available in 6 fun, unisex prints.
This summer go green, and pick up one of these super-cute reusable swim diapers!
– Belinda, Staff Writer