When we're pregnant, we become hyper-vigilant to our ever changing bodies. We become acutely aware of anything that seems out of the ordinary, any pains that we may be experiencing. One Colorado mother credits her son for essentially saved her life during her pregnancy. Amy Hansen, of Fort Collins, Colorado had been diagnosed with ovarian cancer just mere weeks after she learned that she was going to have a baby.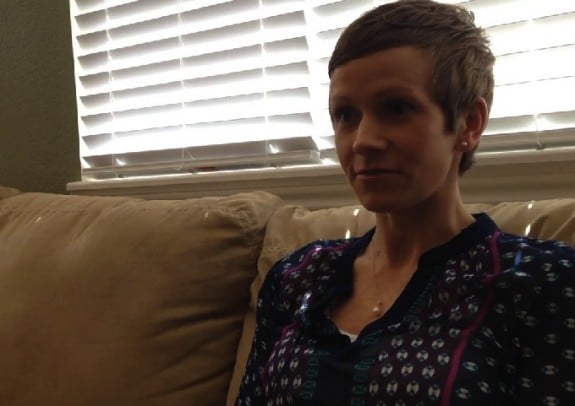 Five days after Amy learned that she was pregnant, she ended up in the emergency room with severe abdominal pain. At the time, doctors had discovered a cyst, which they drained. But the cyst was persistent and doctors had to remove it weeks later. When the pathology report returned, it showed that Amy had ovarian cancer. The 29 year-old mother truly believes that her son, Gavin saved her life. If it wasn't for learning that she was pregnant, she would've never learned of the cancer.
"I may not have paid attention to the symptoms I was having if I didn't know I was pregnant. Gavin's life meant my life. I wouldn't be here if it weren't for this guy," Amy told the Coloradoan
Amy's husband, Andy says that he cannot wait until Gavin is older and he can tell him that he was able to save the love of his life, adding,
"The fact that we found it so early because of him was a miracle. He really did save her life. That's a pretty neat story to tell him. If we didn't have him, she might never have known until it was too late."
Diana Medgysey, an oncologist at Front Range Cancer Specialists in Fort Collins who coordinated the treatment for Amy says that when treating a pregnant patient, oncologists are not able to use many of their advanced tools like tumor marker tests and CT scans. Medgysey also said that her case was rare for a number of reasons, such as the pregnancy as well as the fact that only 1 in 10,000 cases of ovarian cancer occur during the reproductive years. She also added that the most common form of cancer found during pregnancy is breast cancer. She admits that it was tough when it came to figuring out how to treat Amy, explaining,
"You're operating in the dark, and you don't really know if it's working. We always get nervous when it comes to a pregnant patient, because we think about two patients in the body of one. The first thought that comes to mind is 'do no harm.' That applies not only to your patient, but the fetus yet to be born."
The Hansen's were surprised when oncologists recommended a course of chemotherapy over a period of nine weeks. The couple decided to seek a second, and even a third opinion before agreeing to the chemotherapy treatment. Hansen recalls her feelings "Getting over the shock that chemo was going to be OK was difficult, really awful. I wanted facts."
Sam Shelanski, an oncologist working with Banner Medical Group has said that chemotherapy during pregnancy has so far been proven safe, and it does not seem to increase the risk of birth defects, if it is performed in the second trimester of pregnancy. Dr. Shelanski says that he has had four patients in nine years who were pregnant with cancer. For three of those women, their treatments were successful and they went on to have their babies with little to no complications. The other woman had chosen to terminate the pregnancy in order to seek other options for treating a life-threatening form of cancer. However, despite her early treatment, the woman passed away two years later, with Dr. Shelanski noting that it was a "rare and aggressive case."
Each year, approximately 3,500 pregnant women are diagnosed with some form of cancer. Dr. Shelanski says that as the average age of pregnancy goes up, so too will that number, as women continue to get pregnant in "later and later periods of life". Oncologists say that while the diagnosis of cancer can be an emotionally draining one, many cases are not as terrifying as one may think. Dr. Medgysey says that in the past fifteen years, she has treated a total of four women who were pregnant, all of whom went on to have successful pregnancies.
Amy believes that an imperative part of her success in beating the cancer came from the support she sought from others who had experienced the same thing as her. She contacted Hope For Two: The Pregnant with Cancer Network, where she was put in touch with a woman who had also been pregnant with ovarian cancer. She now has a healthy and happy five year-old daughter. Amy would also read in newsletters, the experiences of other women who went through the same thing, taking comfort in knowing she was not alone, she said that she "knew it was going to be OK."
Today Amy is lending her support to the network, sharing her advice and insight with other women who are currently experiencing cancer during pregnancy. She hopes to continue inspiring other women and letting them know that beating and surviving cancer while pregnant is possible.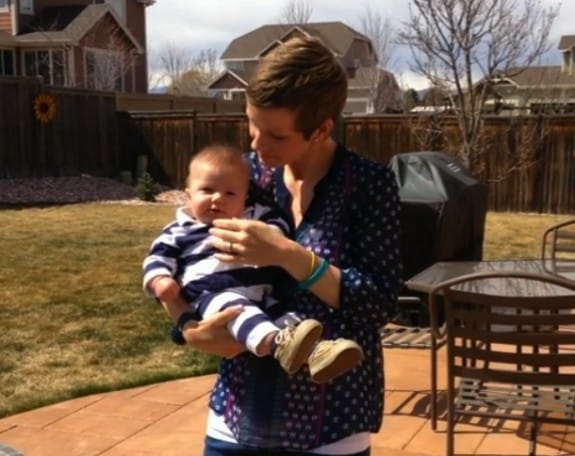 Adding,
"I'm cancer free at this point, Gavin and I have been through a lot. I still don't fully understand it. It just means there was another hand at work here."
---
[ad]