A senior nurse at Haifa's Bnei Zion Medical Center's neonatal unit was photographed recently with a premature baby-girl in her uniform pocket – as a humorous gesture.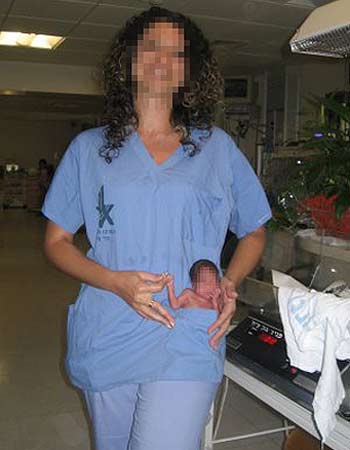 The nurse is considered one of the ward's most dedicated employees, with a career spanning more than a dozen years.
The weird part about the story is that the photo was taken as part of a presentation meant to be screened for parents of premature babies hospitalized in the neonatal unit.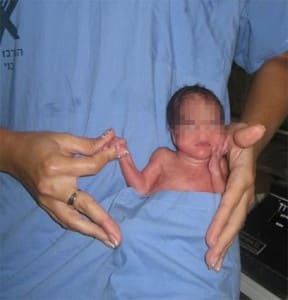 Dr. Amnon Rofe, director-general of the Bnei Zion Medical Center, said
"It Illustrates the 'kangaroo method' which is supposed to teach parents how to create a direct physical bond with the preemies. After we realized that when people see the photo they either smile or are completely shocked, we decided to take it out of the presentation."

The nurse shown in the photo, stressed Dr. Rofe, "is a senior nurse, who's very good at her job. All she did was pose for the photo, she didn't initiate it."
Any parent that has had a premature baby in a NICU will know that what this nurse is doing the NOT the 'Kangaroo Method'.
Kangarooing your baby refers to skin to skin contact between the parent and baby to create a bond and give the baby security and warmth. Sticking a, what appears to be a 2.5 – 3lbs, baby in a pocket is not only the exact opposite of Kangaroo Care, but it was probably scary and cold for him/her.
This hospital definitely needs to re-evaluate how they teach parents to create a bond with their baby!
Related Articles: