Born at just 29 weeks, little Axel Winch needed a miracle to survive.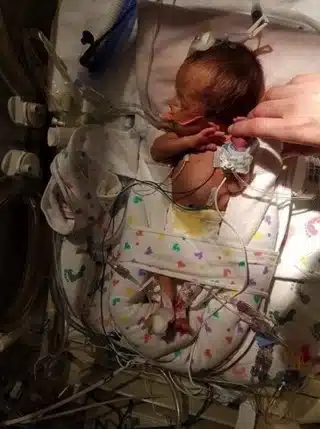 "They let us know he had all sorts of issues genetically, physically to the point where the news was pretty devastating," Adam Winch, Axel's dad, told King5. "He was in for probably a lifetime of issues medically. They're still not sure what all of it is."
Flown to Children's Hospital Colorado, he spent months in the NICU. There, he endured numerous surgeries and procedures. He's also amazed his doctors and defied all the odds.
"Axel has died in our arms multiple times . . . His nurses have saved his life. We have watched miracle after miracle," Adam said. "He's completely a mystery baby to this NICU . . . It is world-class, still trying to figure it all out. There's a lot of different theories, but they're not sure exactly what it is yet."
Sadly, no matter how much they wanted to be there for Axel during his every waking moment, his mom, Melissa Winch, a Grand Junction police officer, and dad, a former officer who now owns his own business, had to return to work.
"Leaving is heartbreaking," Melissa told King5. "The first time we left, I cried not all the way home, but [the] majority of the way home. It's terrible."
Thankfully, little Axel had one more miracle on the way.
The local department had been notified that a fellow officer had a baby in the hospital that needed help. The Winch family, though from a different area, were treated with the same love and respect as if they'd been a part of the precinct. In fact, Axel never spent a single day alone.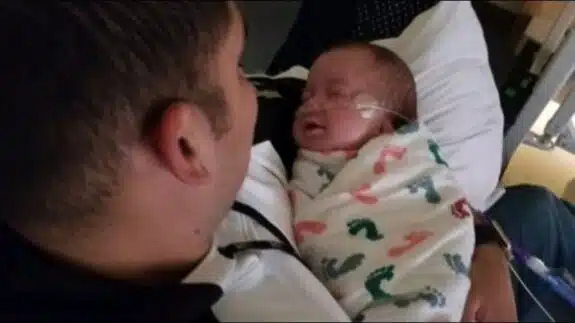 "I didn't want him to be alone," said Sgt. Mike Pitrusu, who runs Aurora Police Department's Employee Support and Wellness unit. "[I] came up with the idea that we would set up basically a watch, that we would have officers sign up for times to come in here and spend time with Axel."
News sources indicate that almost 20 officers had come in to cuddle with Axel at some point during his stay. They even had a name for their days with him: "cuddle watch." And if Axel's penchant for being held all the time now says anything, they did a fantastic job.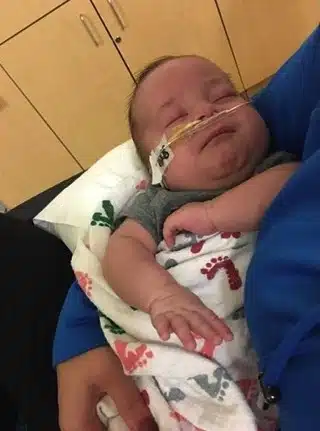 "They've kind of spoiled our boy now," Melissa said. "He just wants to be held all the time now."
Of course, both Melissa and Adam are okay with that.
"We don't know what the future holds yet, but right now he's happy and healthy for us," they said.
Now there's just one little problem left – the officers are missing their cuddle time. After seeing the benefits it offered to Axel and his family, and having enjoyed the time that they had with Axel, the officers are thinking about continuing the "cuddle watch" for other families.
"We almost need to set up a cuddle watch for Children's Hospital, just give the opportunity to come in and take care of the little ones," Pitrusu said.