Officer Joseph Goss calls his heroic rescue of a toddler his "window of opportunity."
A 10-year veteran of Suffolk County's highway patrol, Goss was attempting to pull over what appeared to be an impaired driver traveling on the Long Island Expressway. The driver, 37-year-old Maria Lagatta of Farmingville was near Exit 68 during the rain-slicked rush hour traffic on Thursday night, and traveling so slowly at about 20 mph that other motorists called 911.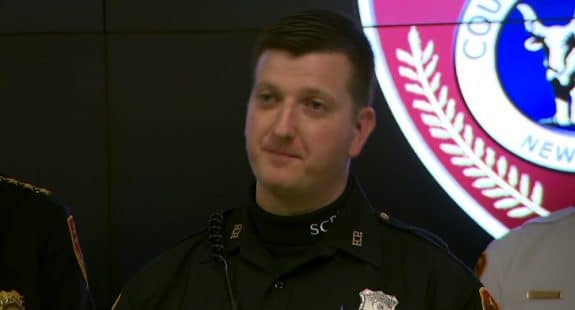 Shortly after 5:30 pm, Officer Goss caught up with the 1999 Ford Taurus, but the driver ignored his flashing lights and refused to pull over. As Goss moved alongside he saw a child in a safety seat. The young passenger was Lagatta's 22-month-old daughter.
Goss rolled down his window, ordering Lagatta to stop. The woman responded by rolling down her passenger-side window, but told the officer she couldn't pull over.
Officer Goss says that his biggest concern was a rear-end crash. He had managed to slow traffic behind him by turning on his flashing lights, and Lagatta's car had also slowed down, and was now moving at about 5 mph.
That was the opportunity that Goss needed.
He sped ahead and parked on the right shoulder of the road, then jumped out to run to the passenger side of Lagatta's car. The window was still rolled down, so he dove in – and with feet dangling out of the window forced the car's gear shift into park. Uninjured by his remarkable dash and dive, Goss then took the keys and waited for the arrival of backup officers.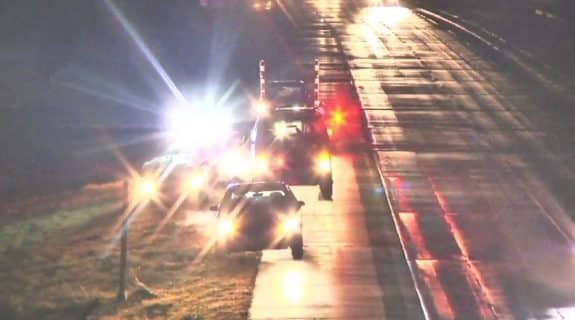 Neither the mother or the startled baby was harmed, and the child was released on-scene to a family member. Child Protective Services was notified of the incident.
Maria Lagatta was charged with driving with drug-impaired ability, aggravated driving while intoxicated with a child passenger under 16 (also known as Leandra's Law) and with endangering the welfare of a child. Records show this was Lagatta's third arrest since 2014 for operating a vehicle while impaired with drugs. She will be arraigned on the new charges on Friday.
Suffolk Chief of Department Stuart Cameron praised Officer Goss for "quick thinking and brave actions" that may very well have prevented a tragedy.