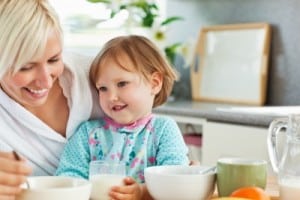 Picky eaters is one of the most common problems that parents face when trying to care for their children. A new study may have found that mom has the biggest influence over what children will, and won't, eat. Could mom be the key to teaching children healthy eating habits?
The study was lead by professor Mildred Horodynski of Michigan State University's College of Nursing, and followed over 400 low-income families with children between 1-3 years old. Following what the mothers ate and what the toddlers ate, the researchers found a strong connection. Toddlers who did not see their mothers consuming fruits and vegetables four or more times a week were not likely to want to eat fruits and vegetables either.
"What and how mothers eat is the most direct influence on what toddlers eat," Horodynski said. "Health professionals need to consider this when developing strategies to increase a child's consumption of healthy foods. Diets low in fruit and vegetables even at young ages pose increased risks for chronic diseases later in life."
Not just a mother's diet, how she viewed her child also seemed to be a factor. Mothers who considered their children to be picky eaters tended to have toddlers who were unwilling to eat fruits and vegetables. The researchers wonder if this perception causes the picky eating, rather than being already there.
"Perceptions of a toddler as a picky eater may be related to parenting style or culture," Horodynski said. "Mothers who viewed their children as picky eaters may be more lax in encouraging the consumption of fruits and vegetables."
Toddlers often have to be exposed to a food several times, as many as 15, before they are willing to try it. For toddlers who do not have much exposure to healthy foods, they may be more reluctant to eat these foods as often as they should. According to Horodynsk, health professionals need to put more effort into helping mothers understand healthy food choices and how to make them.
"Mother needs to have the knowledge and confidence to make these healthy decisions for their children," she said.
Of course, for many low-income families making healthy food choices is limited by their income. Healthy, fresh fruits and vegetables tend to be more expensive than processed, nutrient-lacking foods. More than just educating mothers, more effort needs to be put into making sure these families have access to healthy affordable foods. – Summer, Staff Writer

Related Articles:
---
[ad]