Mamas! Bust out the trout and wild salmon because a new study has found that women with low vitamin D levels experience an increased amount of pain during labor.
In the past lower levels of Vitamin D during pregnancy have been linked with pre-eclampsia and low birth rates, while higher levels have been found to increase brain function and muscles in toddlers. Now, researchers believe that it may be linked to a less pain during delivery!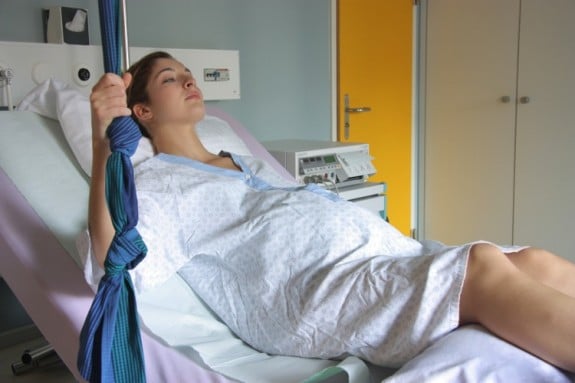 "Women often experience lower than normal levels of vitamin D during pregnancy," said Andrew W. Geller, M.D., physician anesthesiologist at Cedars-Sinai Medical Center in Los Angeles and senior author of the study. "We found that patients with low levels of vitamin D experienced an increase in pain during childbirth."
It is recommended that moms-to-be take 10 micrograms of vitamin D each day throughout their pregnancy, but the American College of Obstetricians and Gynecologists reports that vitamin D deficiencies are common during pregnancy, particularly among high-risk groups, including vegetarians, women with limited sun exposure and ethnic minorities.
For their study, researchers measured the vitamin D levels of 93 pregnant women prior to delivery. All of the women requested an epidural for pain during labor. Researchers then measured how much pain medication each woman required during labor. Those numbers were compared the quantity of pain medicine used by the women with higher levels of vitamin D versus those with lower levels of vitamin D.
The study found that the patients with lower levels of vitamin D consumed more pain medication than patients with higher levels of vitamin D.
"Given the research results, prevention and treatment of low vitamin D levels in pregnant women may have a significant impact on decreasing labor pain in millions of women every year," said Dr. Geller. "This topic needs to be revisited and additional research should be conducted to determine how we can improve the labor experience for women everywhere."
The safest foods with the highest doses of Vitamin D are fish such as wild salmon and trout followed by portabello mushrooms and fortified cereals.  Tofu, caviar and fortified dairy are next with pork products like extra lean ham and spare ribs, eggs and Dairy Alternatives  such as Plain Soy Yogurt rounding out the top 10.  Cod Liver packs the most vitamin D but is NOT safe for pregnant women to take as there is a theoretical risk of Vitamin A overdose if the woman's diet contains other foods with a high Vitamin A content.
---
[ad]