A couple from South Africa who was preparing for triplets was surprised last week when 2 extra babies arrived!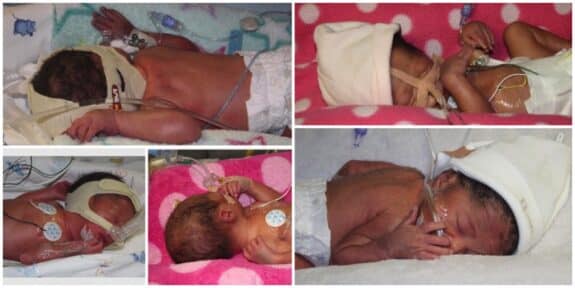 32-year-old Jabulile Buthelezi welcomed one boy and four girls at Clinix Botshelong-Empilweni Private Hospital in Vosloorus last Thursday.
Augustine Buthelezi, the proud father, said they ran out of names as they only expected three babies.
"We prepared three names because we were expecting three babies. The initial scan revealed four babies, but one baby hid as time went on as doctors could only see three babies. Our research revealed sometimes it happened that a baby could hide," said Buthelezi.
Adding,
"We decided to name the boy Siyanda and the two girls are Sibahle and Simesihle. The other two girls are yet to be named."
It is not the first time Augustine has been blessed with multiples.
"I also have twins, a boy and a girl, aged 23."
He is the only one in his family to have his wife give birth to more than one child at the same time.
Augustine thanked the hospital for their support since the beginning of Jabulile's pregnancy.
While the proud papa was very excited the new babies his mother collapsed out of excitement as soon as she heard the good news.
Dr. Moeng Pitsoe, who delivered the babies, told Kathoris Mall: "What makes me happier is the fact that the mother and her quintuplets are in good condition and are doing extremely well. The babies are, however, to be kept on ventilators as they weigh less than 1.2kg."
"We managed the pregnancy as if expecting three babies. After the seventh month, the mother experienced breathing problems. To avoid complications, a cesarean section (C-section) was performed. The first baby came, the second, the third. Then the fourth and the fifth. I even looked for a sixth one,"
"The decision to perform a C-section was taken in the best interest of the mother and the unborn children."
Hospital manager, John Kongo said this was the first time in the history of the hospital, as well as the community of Vosloorus, that quintuplets were born.
"We are extremely proud of the team from the maternity ward at Clinix Botshelong-Empilweni Private Hospital who ensured this exceptional case was taken care off in the most professional manner," concluded Kongo.