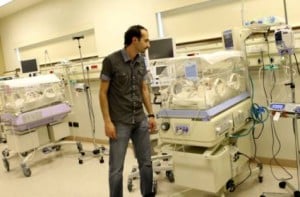 A Syrian couple who were set to welcome quadruplets will have to make room for one more after a fifth baby made a surprise appearance during the delivery.
When Ranim Amir Barmada gave birth at the Saudi-German Hospital in Dubai at 10am on Monday, the new mom and her husband Hasan Munzer Barmada, were stunned to find out they would be welcoming quintuplets, instead of the previously expected quadruplets.
"I was shocked, I could not believe it — then I thought there could also be a sixth one," said a tearful father as he stood in the delivery room.
Conceived naturally, the couple found out they would be expecting four children 12 weeks into the pregnancy.  There is no previous history of multiple births in his or his wife's family, Hasan told the Golf News.
The quintuplets, two girls and three boys,were born prematurely by C-section, weighing between 500 grams to 1.2 kilos. All five babies are currently stable are being kept in incubators with constant monitoring at the hospital.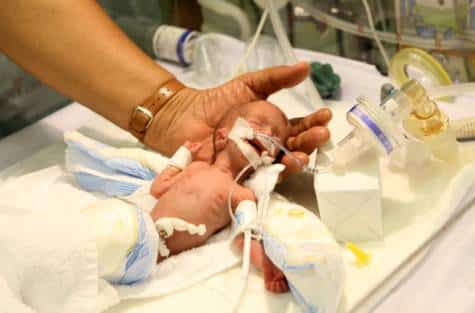 Dr Hassan Ali, Chief of Saudi-German Hospitals Group who was one of four doctors present at the surgery, said that while it's not a common case, the team of doctors was ready to deliver the fifth baby.
"The fifth baby didn't show in the previous scans, he must have been hiding behind the other babies," he added.
The Barmada babies are the first quintuplets to have been delivered at the Saudi-German Hospital,  Dr Hassan confirmed.  They are expected to stay in the hospital for the next 6-8 weeks while they grow and get stronger.
"The babies are all premature and will need to be carefully monitored for several weeks before they can be with their mother," he said. "The smallest baby weighing only 500gm will need to stay in hospital for eight weeks," he added.
The next two weeks will be a critical time for the quintuplets, who will have round the clock monitoring. They are currently being fed by total parenteral nutrition(TPN), an IV solution that provides all the nutrients they will need until they can tolerate expressed breast milk.
"In the early stage, we have to be very cautious with the babies while feeding them because they are not ready to accept milk," he added.
Not able to hold their babies yet, the couple are surrounded by family and are praying for their five babies' quick recovery.
---
[ad]