In the eye of a storm, a baby was born. In Wilmington, N.C. at the New Hanover Regional Medical Center, Andi and Jeff Curtis were admitted to the hospital on Friday evening. Just as the storm reached its peak, daughter Parker Elizabeth was born.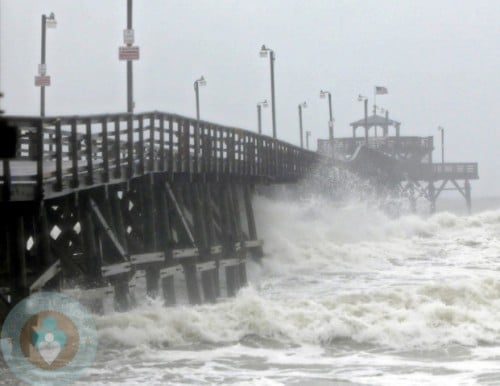 "I could see out the window but honestly I really wasn't paying attention during labor and deliver," said Andi who expected that her due date would mean delivering in weather that was hot and muggy, "But I never thought hurricane would be an issue."
The Curtises weren't the only family to receive a new addition during the storm. New Hanover Regional Medical Center, a dozen infants were born during the 17-hour lockdown. There are also eight more mothers waiting to deliver. With the lockdown over, the hospital expects even more mothers-to-be to arrive. Already, the hospital claims that a 30 percent spike in deliveries took place during the hospital's lockdown.
An increase in deliveries during a storm may not be that strange, however. According to some experts, the weather may actually have something to do with it. "With the fall in barometric pressure seen around these weather events, maternal amniotic membranes tend to rupture more easily, thus initiating spontaneous labor," Dr. Robert Welch, program director of obstetrician and gynecology at Providence Hospital in Southfield, Michigan.
Evidence shows that labor isn't the only thing sparked by storms. Some couples may even find that they are expecting within weeks after a storm. A report published in the Journal of Population Economics in 2010 stated that fertility rates seem to rise during less severe storms in areas that often experience natural disasters. Severe weather adversaries, however, do not seem to boost fertility rates.
So now for the big question, will there be any babies named after Hurricane Irene? It doesn't look like it. According to the hospital, only two couples had given any thought to the name Irene, but only as a little name. The Curtis family stated that they, "never considered it." They stated that they would, "document her coming in a hurricane in other ways, like newspaper clippings. We'll definitely remember it."
Related Articles: