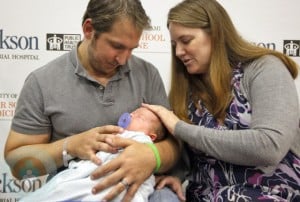 The birth of every child is special for their parents but it is not every day that they announce the delivery at a press conference. For Trine Engebretsen and her husband Ryan Labbe though the arrival of their son into the world was indeed an occasion to tell the whole world, because he is the first baby to be born to parents who have both received liver transplants.
Trine, now 30 and a medical student in the inaugural class at Florida International University's Medical School, was barely two years old when she became the first Florida based person to have a liver transplant. In 1984 President Reagan had mentioned her name during one of his radio addresses to encourage more towards organ transplantation.
Trine married Ryan, who was also a recipient of a liver transplant and on july 21st they welcomed their first born Andersen Thomas Labbe, who doctors predict is the first baby born of a couple with liver transplants.
"Sometimes it doesn't hit me. I had to stop and go, 'Oh, I'm a dad!' It's wonderful," Labbe said, as the couple giggled. "There's so much more to experience and every day it's something new."
Anderson is already surrounded by wishes of a large extended family. Trine's donor family sent a huge box of baby stuff for him and are considered grandparents by the couple.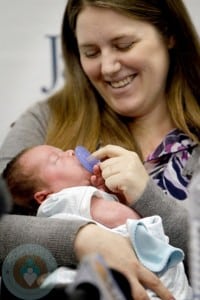 In 1984, Dr. Andreas G. Tzakis, a director of the Miami Transplant Institute at UM/Jackson, had assisted his mentor, Dr. Thomas Starzl, in Trine's surgery.
"I'll never forget how hard she kicked me every time I examined her," Tzakis recalls, smiling at that '80s moment when the three made history. "I was blessed to see her grow."
He also performed Ryan's transplant in 2008.
Ryan had health problems throughout his childhood.  He met Trine through a website liverfamilies.net. Soon web chatter turned to telephone calls and he visited Trine in South Florida from his home in Connecticut three months later.
"I convinced him to come down here and visit me," Engebretsen said.
"We already felt we had a connection and had a lot in common so it felt like a natural progression," he said.
When he flew back, Ryan's health began to decline. He had malformation of the bile duct since birth.
"He called me and said, 'I'm kind of yellow.' That's not good," Engebretsen recalled. She flew up to see him.
She convinced him to meet Dr. Tzakis and seven months later he had a liver transplant. The couple got married in December 2008.
The two then began thinking about a baby. It was a well thought out plan.
"I came in the living room and said, 'We're going to be parents.' And, even though we talked about it and planned for it, I think Ryan was terrified. His eyes were huge," Trine laughs.
Being a transplant recipient, the pregnancy was naturally associated with high risk. Trine worked with Dr. Salih Y. Yasin, director of obstetrics and patient safety at the Women's Hospital Center at Jackson. She also gathered all the information she could about pregnancy.
But Trine had been out of medication for a long time and was general healthy.
"She was just another pregnant lady having her first baby," Yasin said.
"We still don't want to give the message that with liver transplant [patients] it's an easy pregnancy," Yasin said. "There are risks of infections and multiple complications."
But the couple overcame all the hurdles to welcome baby Anderson a healthy 7-pound, 8-ounce boy.
The couple chose the name because of Trine's Norwegian roots.
"My family's Norwegian and we wanted something that had Norwegian roots," she said. "Andersen is actually the Norwegian form of Andreas."
With her wish of becoming a mother fulfilled, Trine is now concentrating on her next goal and that is to become an emergency room doctor.
She says emotionally, "I heard at the white coat ceremony at FIU's inaugural class I'm making medical history twice. I guess, yeah, we're doing that again. I like to show our donor families their generosity and trying to make the most of the gifts we've been given.''
Her story is definitely a reminder of all the good things that can come out of one organ transplant.
Related Articles:
---