Recently, we shared a post that discussed whether or not drinking during pregnancy should be considered a crime. This conversation was brought on by a lawsuit happening over in England in which prosecutors attempted to seek damages for a child that had been affected with lifelong damage.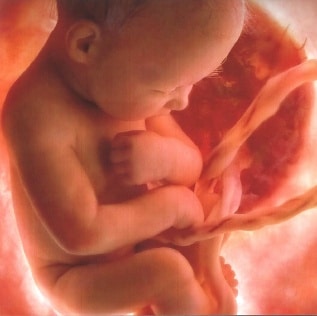 According to prosecutors, charges were not being brought against the mother. Yet, it was only through claiming that possible criminal offense—section 23 of the Offences Against a Person Act 1861 of poisoning—had been committed that damages could be sought.  And the case brought on a great deal of debate as to whether or not mothers could face charges if proceedings ruled in favor of the local authority.
The local authority in the north-west of England that now cares for the seven-year-old girl brought the suit, and they argued that the girl (diagnosed with fetal alcohol spectrum disorder) was entitled to payments from the Criminal Injuries Compensation Authority (CICA). The CICA declined to provide compensation on the grounds that no violent crime had been committed.
Three judges—Lord Justice Dyson, Lord Justice Treacy and Lady Justice King—unanimously ruled that, while the unborn baby had, indeed, been a "unique organism," it had not been a person. That lack of personhood caused the local authority to lose their case against CICA.
"The time at which harm, acknowledged in this case to amount to grievous bodily harm, occurred was whilst [the child] was in the womb. At that stage, the child did not have legal personality so as to constitute 'any other person.'" Treacy explained as to why they felt the child did not have a separate existence in law, thereby granting damages to the child. "A mother who is pregnant and who drinks to excess, despite knowledge of potential, harmful consequence to the child of doing so, is not guilty of a criminal offense under the law if her child is subsequently born damaged as a result."
"Parliament could have legislated to criminalize the excessive drinking of a pregnant woman, but it has not done so," Lord Justice Dyson said. "Since the relationship between a pregnant woman and her fetus is an area in which parliament has made a [limited] intervention, I consider that the court should be slow to interpret general criminal legislation as applying to it."
As many as 80 other similar cases had been waiting in the wings for this ruling; they were in hopes that, if the prosecution won this case, it would open up opportunities for these other children suffering from similar debilitations caused by the alcohol consumption of their mothers during pregnancy.
But this case opened up much more than just whether or not children would receive compensation; pro-lifers and pro-choicers argued both sides of the coin in regards to what the possible long-term ramifications of a case like this could be.
"Imposition of criminal liability . . . would inevitably deter some of those who needed support with addiction from disclosing their condition or contacting health professionals during pregnancy," British Pregnancy Advisory Service and Birthrights said. "If the appeal succeeds, women with substance addictions may avoid engaging with health services or feel compelled to terminate their pregnancy rather than continue and face potential sanctions."
But Labour MP Mary Glindon, who supported the appeal and is a member of the parliamentary pro-life group felt that the ruling was unfair, and only served to muddle the law.
"Is it reasonable to claim that a baby minutes before birth is a mere organism? No. A baby minutes before birth is a baby and should be protected," she said. "The position of UK law is now that you can permanently injure an unborn child with impunity, but if you kill an unborn child, you may get a life sentence. This doesn't make sense. In attempting to sidestep the abortion issue, the court has made a complete nonsense of the law."
The Conservative MP Fiona Bruce, also a member of the parliamentary pro-life group, had something to say about the ruling as well.
"The pro-abortion movement did their best to prejudice this judgment," Bruce said. "Their false spin labelled this case as being about criminalizing drinking during pregnancy. In fact, it was nothing of the kind. It is a civil case about whether a child should be offered compensation after excessive drinking during pregnancy rendered her disabled for life. The law is hopelessly unclear on the status of an unborn child, and this judgment makes it even more incoherent. The only loser in this case is the child who has been denied compensation to help with her care costs. I find no cause for rejoicing in that."
While the pro-lifers make a very valid point about what the case was intended to be about (as well as who is really suffering in the end), there are some realities that have been dismissed, such as the number of women prosecuted in the United States for drinking during pregnancy. It is a natural, logical progression when you take into account that you would have to use criminal charges to seek damages.
Whether or not criminal proceedings against mothers would truly be helpful in curbing the number of children suffering from Fetal Alcohol Syndrome is debatable. But one thing is for certain: there should still be some way to ensure that care is provided for children affected. Because, if there is one thing I can agree with, it is that the child is the one suffering in the end.
Related Articles:
---
[ad]