According to the AP, the Consumer Product Safety Commission started an investigation this week following complaints of babies and toddlers suffering severe and persistent diaper rashes and blisters that resemble chemical burns.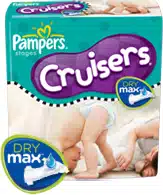 In March, Procter & Gamble launched new, thinner versions of its Swaddlers and Cruisers diapers in the U.S. named Dry Max technology because it replaces the paper pulp previously used. Parents' groups blame the change for skin problems.
The company denies that Dry Max causes chemical burns. In a statement, the Cincinnati-based company said:
"There is no evidence from the people that have called us — or from the research that we have done — that a single baby has experienced a skin safety issue as a result of our Pampers with Dry Max."

"Our Dry Max diapers use the same type of ingredients and materials as our other diapers and in fact, many other disposable diapers on the market. The key difference is simply in how we designed and produced the diaper itself."

"We thoroughly evaluate for systemic toxicity, skin irritation or skin sensitization (skin allergy)."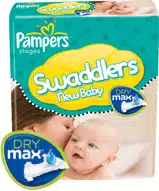 The company also pointed out that the amount of complaints it's seeing is in line with expectations. "It's one severe rash complaint for every 6 million diaper changes."
CPSC spokesman Scott Wolfson encouraged parents to report any problems to the agency, which he said has received only a handful of reports so far. Mr. Wolfson said the investigation is in its early stages and the agency is seeking as much information as possible.
"We would like parents and caregivers to report to CPSC if they feel that their baby has been affected by this issue," he said. "It's so important for it to come directly to us."
Procter & Gamble has shared all of its existing safety data with CPSC, said company spokesman Bryan McCleary.
"We're happy to work with them to clear up any misconceptions or misleading information that might exist," he added.
In March when we covered the Celebrity Dry Max Launch, some moms told to us that they were having issues with these diapers. I hope that the CPSC and Pampers are able to find out what is causing the problem and fix it.
Related Articles: