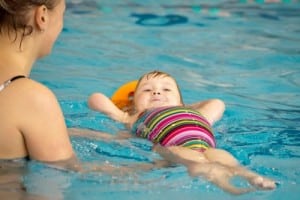 As we head into the Summer the CPSC is stepping up their efforts to increase awareness about unintentional drownings.   In just the first 5 months of the year 55 drownings and 63 near-drowning incidents in 29 states and territories have already been reported by the media.
To kick off their Summer awareness campaign CPSC Chairman Inez M. Tenenbaum, along with U.S. Olympic swimmer Janet Evans and Chula Vista Mayor Cheryl Cox, urged parents and children to be vigilant in and around pools and spas.  Chairman Tenenbaum also released CPSC's annual drowning, near-drowning, and entrapment reports.
CPSC's new statistics show:
An annual average of 383 pool and spa-related drownings for children younger than 15 occurred from 2006 to 2008; about 76 percent of the reported fatalities involved children younger than five.
An estimated average of 5,100 pool or spa emergency department-treated submersions for children younger than 15 occurred each year from 2008 to 2010; children younger than five represented 79 percent of these-injuries.
Children between the ages of one and three (12 to 47 months) represented 66 percent of these fatalities and 64 percent of the injuries.
About 72 percent of the fatalities from 2006 through 2008, and 55 percent of the estimated injuries from 2008 through 2010 that involved children younger than 15 occurred in a residential pool or spa; children under five made up the majority of  incidents at residential locations, with 84 percent of fatalities and 61 percent of injuries, respectively.
Tragically, based on reported statistics, 96% of victims involved in a submersion incident will die.  Fatalities usually occur the day of the drowning event (72%).  For the victims who survive the event, most will succumb to their injuries within a week (24%). Only 4% of near drowning victims will survive beyond a week, and many will have severe injuries and require intensive medical care.
There were no reported entrapment fatalities for 2010. CPSC received three reports of entrapment injury incidents during 2010.
The CPSC has created a site dedicated to pool safety that helps parents and families build on their current safety systems at pools and spas by adopting a couple additional water safety steps.
Never leave a child unattended in a pool or spa and always watch your child when he or she is in or near water
Teach children basic water safety tips
Keep children away from pool drains, pipes and other openings to avoid entrapments
Have a telephone close by when you or your family is using a pool or spa
If a child is missing, look for him or her in the pool or spa first
Share safety instructions with family, friends and neighbors
To further protect both your children and those who may wander into your backyard they also suggest to:
Install a four-foot or taller fence around the pool and spa and use self-closing and self-latching gates; ask your neighbors to do the same at their pools.
Install and use a lockable safety cover on your spa.
If your house serves as a fourth side of a fence around a pool, install door alarms and always use them. For additional protection, install window guards on windows facing pools or spas.
Install pool and gate alarms to alert you when children go near the water
Ensure any pool and spa you use has compliant drain covers, and ask your pool service provider if you do not know
Maintain pool and spa covers in good working order
Consider using a surface wave or underwater alarm
In addition Chairman Tenenbaum noted that
"CPSC's new data show that the number of drownings and near-drownings involving children younger than five are still a serious public health issue. CPSC is committed to reducing the number of drowning and near-drowning incidents in swimming pools and spas in the country. The Pool Safely campaign and its partners encourage parents and children to take as many water safety steps as possible to help save a life."
---
[ad]