Well known for bringing innovation to arts & crafts time, Crayola will debut some cool new collections for kids looking to create unique projects! While at Toy Fair this past week we had the opportunity to preview the company's new collection are excited about all of the neat new products in the pipeline for Summer. Videos of all the products are in playlist below!
The Crayola Crayon Carver helps kids make art out of their favorite art tools –crayons. With a motorized carver that engraves cool messages and designs, kids can send colorful, custom-carved crayon notes to their family and friends. The kit includes 40 tracing tiles and eight Crayola crayons. Designed for children ages 6 and up. Will retail for $29.99.
With Crayola Color Alive Easy Animation Studio, kids have the ability to bring their color to life like never before and create custom animations quickly! Kids can customize any one of 10 characters and five backgrounds with the included Twistables® Colored Pencils, then create and share animations with the poseable mannequin and Smooth Action Technology®. Compatible with iOS, Android, and Windows smartphones, tablets, and iPod Touch. Designed for children ages 6 and up. Will retail for $24.99.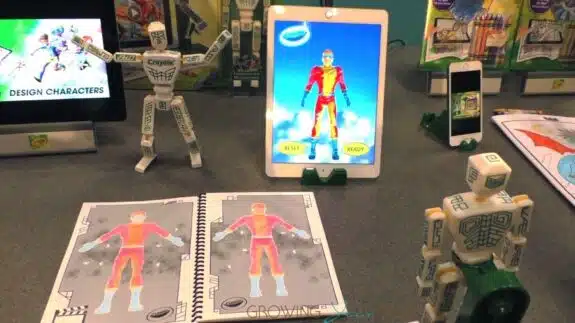 The Crayola Cling Creator helps kids create colorful clings that stick to –and peel from –windows, mirrors and other smooth surfaces. Kids can use the molds provided or make their own using the included customizable clay. The set comes with tools, color mixing pots, and more. Designed for kids ages 8 and up. Will retail for $24.99.
With the Crayola Color Wonder Light-Up Stamper, stamp colors appear magically and make no mess at all. The Stamper magically "lights up"in whatever color they choose, and children can then color in the stamped images using mess-free markers. The stamps work across multiple items with the Color Wonder line (Minions Stamper & Art Desk). Designed for children ages 3 and up. Will retail for $24.99.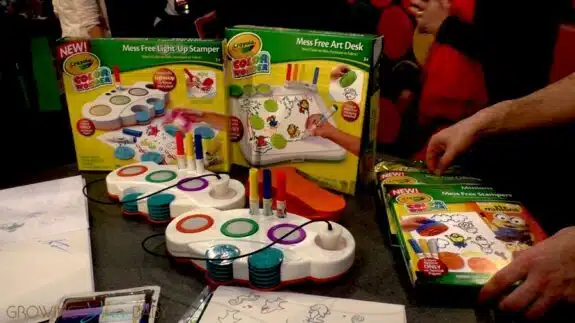 We have video of each of these products in the playlist below:
---