As Cruise lines order bigger boats with more amenities and better equipped cabins one thing is crystal clear – they want your family's business.
Parents who are vacationing with their kids look for 3 things; value, convenience and entertainment. Three things that a cruise offers, but is all geared at a younger audience – not always, but that is definitely changing.
Disney, the only cruise line that currently gears 90% of their programs towards kids, will soon be getting a bit of a run for their money. Both Royal Caribbean and Norwegian Cruise lines have recently unveiled plans to beef up their kids content on selected ships, by teaming up with Dreamworks (RCCL) and Nickelodeon(NCL).
This means that you will be able to treat your kids to character dinners, special themed shows and entertaining extravaganzas while sailing aboard a beautifully appointed cruise boat headed to paradise.
We look at all three cruise lines and what they are offering to help your decide, who you will sail with – Mickey, Shrek or Dora.
Royal Caribbean: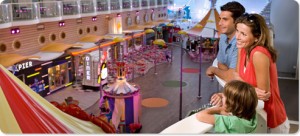 In the past few years Royal Caribbean has definitely expanded their kids amenities.  While their ships have always been geared for every member of the family, their new fleet definitely improves upon this.  When the Freedom-class of ships was introduced it was the first time that the line had offered so many elements for their little passengers like the H20 Zone waterpark and the flowrider.  Now the Oasis-class comes equipped with a carousel, an outdoor park and a nursery for the smallest cruisers.

Their Adventure Ocean® youth program partners with companies like Crayola® and Fisher-Price® to offer creative play options for cruisers of all ages. The partnership with Dreamworks adds lots of exciting activities for families to take part in together.  From character meals & parades to a one-of-a-kind AquaTheater shows and first-run 3-D Dreamworks films showing in the movie theater, Royal has created a program that will allow passengers to 'discover once-upon-a-time moments with your favorite characters from Shrek®, Madagascar® , Kung Fu Panda® and more'.  After premiering on Allure of the Seas in December, the DreamWorks-themed activities program will also be incorporated into many of the activities on the Freedom-class ships.
For bigger families who are looking to cruise, Royal Caribbean's Freedom-class ships offer six different family stateroom categories, including the 330-square-foot, six-person Inside Family Stateroom that includes a curtained-off sleeping alcove and sleeper sofa.  The Oasis-class ships take this to the next level with a 2 bedroom family balcony suite, 2 level loft suites, and an Aquatheater Suite with 2 bedrooms that overlooks the back of the ship.
Norwegian: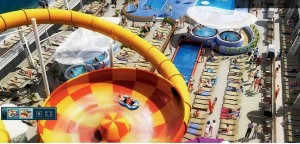 Norwegian's Freestyle Family Fun program has been a hit with families who don't want to be on a schedule. Just-for-kids splash pools, available on 7 of their boats, the NCL Kids Crew club and the Kid's Café, with pint-size tables and a buffet serving nothing but the finest kids cuisine, will ensure that your little traveller will have lots to do while onboard. Additionally, Norwegian's newest ship Epic offers an Aqua Park(with 3 waterslides, a kids pool and splash pad), Cirque du Soleil themed dinners inside the Big Top and a bowling alley.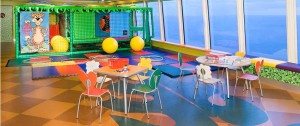 Norwegian's partnership with Nickelodeon adds lots of family activities like Nickelodeon's signature messy game show, Dora's Music Party, interactive games by the pool during Nick Live Poolside and character breakfasts where your kids can hang out with SpongeBob SquarePants and Dora the Explorer.
NCL's newest ships offer cabins and suites that can connect to create two, three, four or five bedroom configurations, suitable for small and large families.


Disney: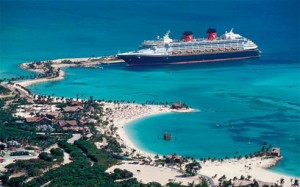 Disney is undoubtedly the king of kids cruises with their over the top themed ships that cater to kids of all ages. The cruise line has not left any stone unturned, going as far as dividing it's private island beach, Castaway Cay up into areas for every member of the family. Castaway Cay visitors will find an island completely outfitted for premium family leisure. In addition to open-air BBQ dining, cruisers can snorkel in the lagoon, kayak and paddleboat in the Boat Harbor, enjoy a beach Dance Party with Lilo and Stitch, interact with stingrays or bike on the nature trails. Parents are also offered free childcare at Scuttle's Cove, an expansive child's area supervised by Disney counselors, so that they can enjoy open-air massages with an ocean view at the adults-only beach Serenity Bay.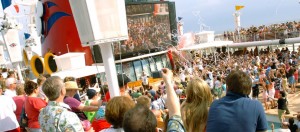 Once back on board, the family activities to choose from are plentiful! From deck parties, character dinners, 3D first-run movies under the stars, Live shows of your favorite movie and of course, the kids club. Unlike any other cruise line, Disney has something for every child on board, starting with their 'It's a Small World' Nursery, a specially created space for children ages 3 months to 3 years.
An arcade, a teen hangout room, a children's activity center and a tween exclusive space round out the play experience for kids 3 and up.
Parents concerned about cramped living quarters will appreciate that Disney's staterooms are 25 percent larger than the industry average. Deluxe inside and outside staterooms are 214 square feet and include a privacy curtain that separates the two sleeping areas, allowing you to switch on a light without waking the children. The 304-square-foot Deluxe Family Staterooms with Verandahs sleep up to five.
Price:
Cruising with a family is not cheap as most cruise lines do not offer kid's discounts, just a reduced rate for 3rd and 4th passengers in a cabin.
When I priced out a 7 day cruise for 2 adults and 2 kids(2 & 5) sailing the first week of Feb (the time we normally sail)
Disney was

$

8,073.94 USD [$

3,412.69 per adult &

$756.78(1st child), $

491.78(2nd child)] for a balcony cabin(05-C)

Oasis of The Seas was 4932.52 USD ($1445.88 per adult & $1015.88 per child)for a balcony cabin(D5)

Epic was

$3,312.72 USD (

$1,298.18 per adult &

$358.18 per child) for a family balcony(B3)
It is possible to find more reasonable prices on all three of these cruises if you choose to sail at different times of the year as the $3412 adult price tag listed for Disney was double anything I have ever priced out with them for any time of the year.
Even though themed cruises are exciting, a family looking to stay on budget will find smaller boats that just offer regular activities like kids club, child sized pools and mini-golf a better value. The food will still be good, your cabin will be the same size and the sun will still shine, just without Mickey waiting to greet you when you get on the boat.
Related Articles:
---