While in Las Vegas a couple weeks ago we checked out what Cybex and sister company GB have in store for 2018. Look for more versatility and style as well as some industry firsts when their new collection arrives in the Spring. Here is a preview!
Unique from anything I've ever seen the new Eezy S Twist stroller weighs less than 17 pounds and features a slim footprint which makes it ideal for urban parents on the go.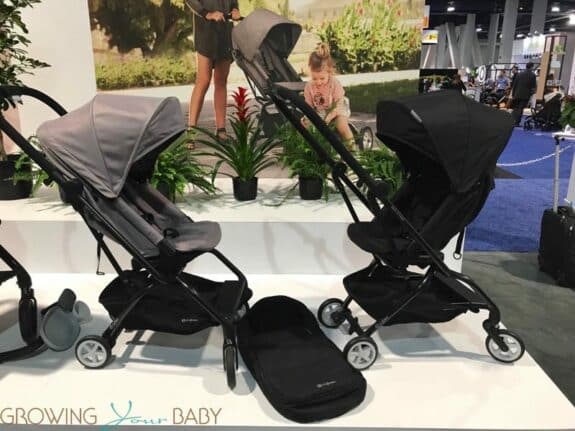 Regardless of the seat direction, the EEZY S TWIST folds with one hand to fit into an overhead airplane compartment, or placed in a standing fold for easy storage.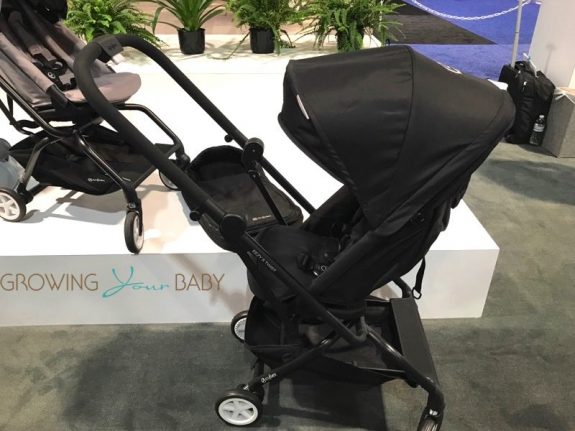 It was also designed with an all-wheel suspension system, full canopy, and stepless recline function to a full near-flat position, making the stroller suitable from birth. Car Seat Adapters will be included so parents can build their own 2-in-1 travel system using CYBEX and gb infant car seats. The EEZY S TWIST stroller is suitable for children from birth up to 55 pounds and will retail for $299 when it hits stores in May 2018.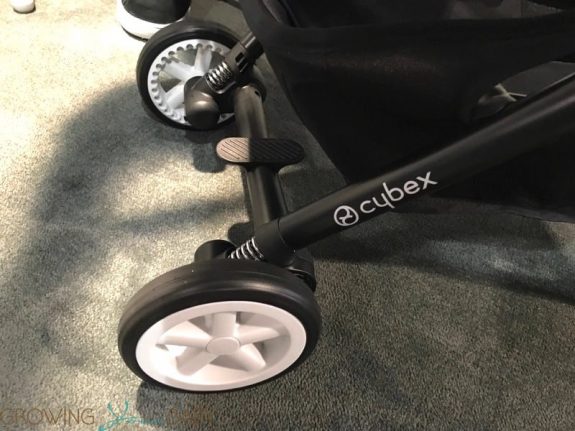 See it in action below:
This Spring Cybex will debut the LEMO Chair. Inspired by classic, sleek furnishings that complement sophisticated home décor pieces, the LEMO Chair can be converted to a seat or stool once the child has outgrown it.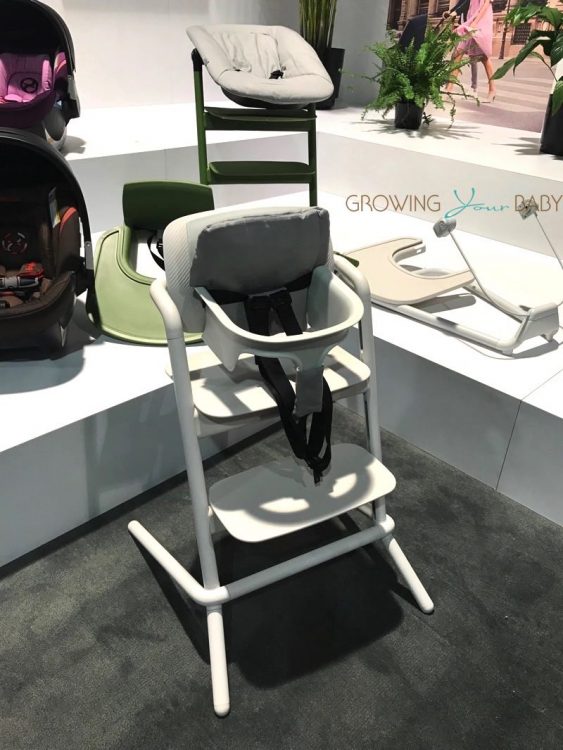 Featuring a seat and footrest that adjust with the touch of a lever, parents can adjust the seat's height and distance from the table with no tools required. The seat can also be converted for use with a CYBEX bouncer, so you baby can lie at table level.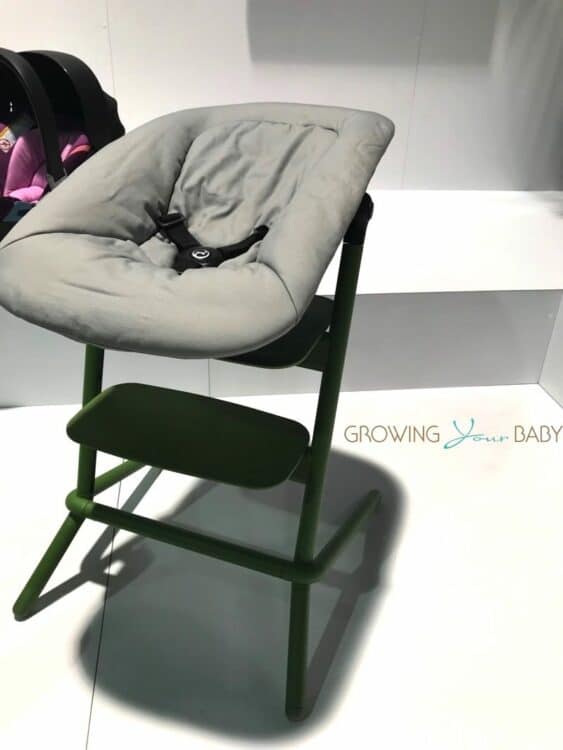 The LEMO chair will retail for $299.95 (plastic), $339.95 (wood and aluminum) and the bouncer will retail for $149.95 with it hist stores in March, 2018.
Cybex has also debuted two gorgeous designer collections.
The Crystallized Koi line features silver, sparkly fabric with embroidered Koi fish on it.  The designs appear on the Priam toddler seat and carrycot, the Mios, Cloud Q Infant Seat and Yema baby carrier.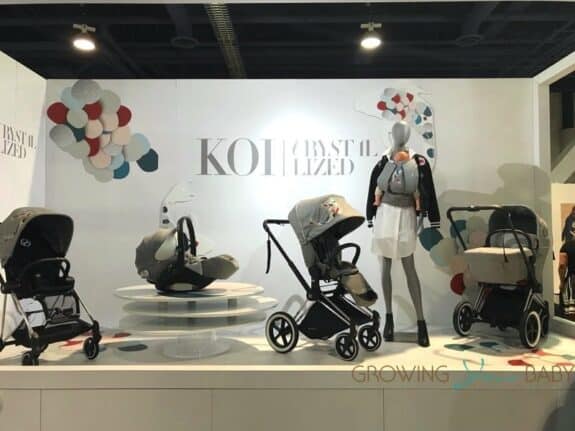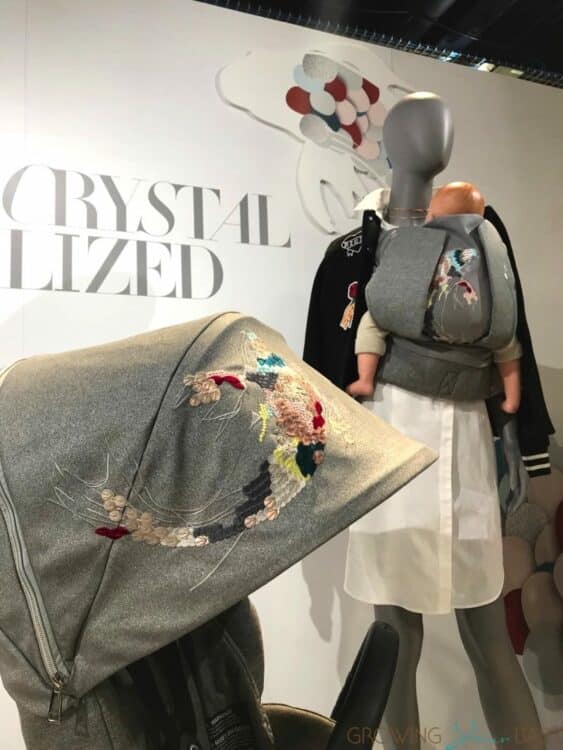 The second collection is the Space Rocket Popstar line.  Over the years I have reviewed a lot of designer gear collections and I have to say the details in this one are incredible.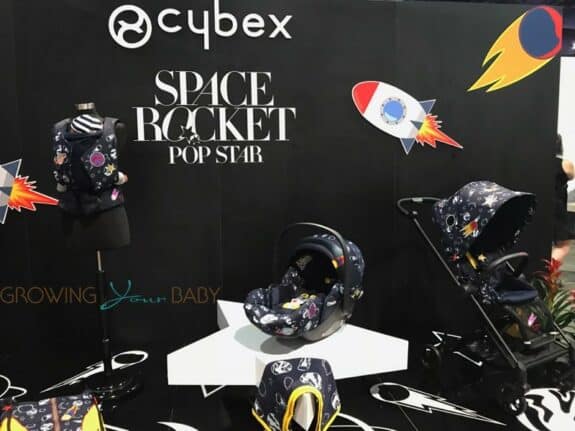 Aside from every square inch of the fabric being covered by planets and rockets, Cybex modified their logo to go with the print and added a magnetic star to the canopy of the Priam's toddler seat.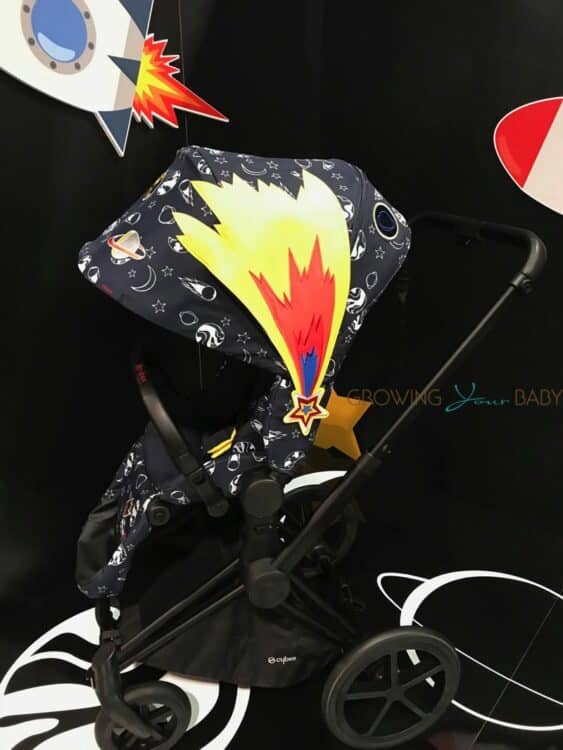 This line comes in the Priam, Mios, Cloud Q infant seat, Yema and also includes a stroller blanket and foot muff.
The new Maira.Tie($135) offers an ergonomic seating panel and a multi-functional head and neck rest for newborns to toddlers (approx. 2 years).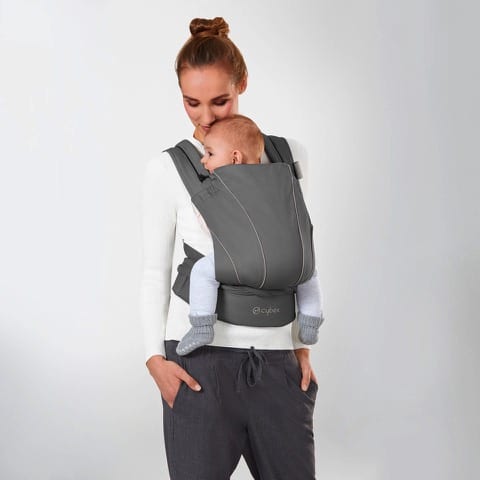 Both can be adjusted to the baby's size for ergonomic and comfortable carrying. The carrier has padded shoulder straps for crossed and parallel wearing that are equipped with a safety lock mechanism. The Maira.Tie can be tied for front, side and back carrying, and is available in four colors.
GB's ever evolving line of travel strollers will soon include the Pockit Go! A hybrid version of the incredibly popular Pockit stroller, the Go will start out as a infant seat frame carrier but have the ability to become a pockit stroller with the purchase of a seat kit.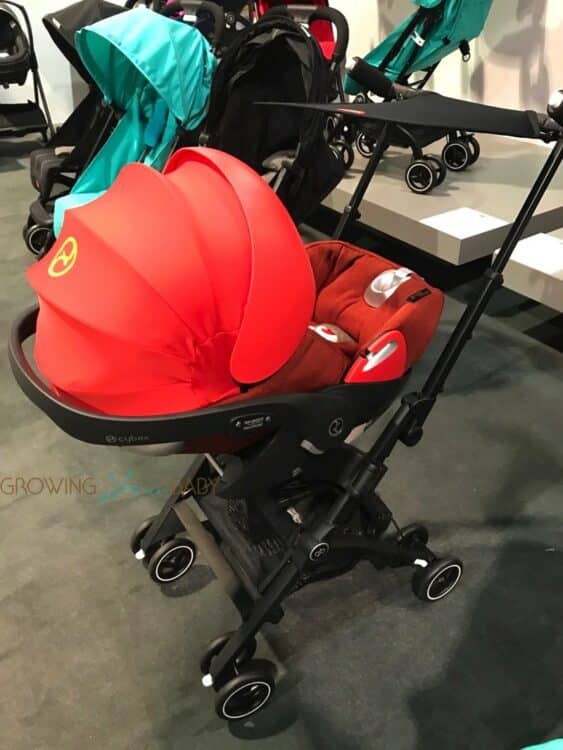 Check out the demo below: