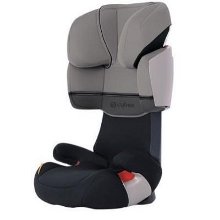 Certain Cybex Solution X-fix model booster seats are being recalled because they contain an incorrect warning label. The recalled seats were manufactured during February 2010.
The defect consists of an incorrect warning statement related to securing an unoccupied booster seat. This statement is inconsistent with Cybex recommended practice, which is to always secure an unoccupied booster with the vehicle seat belt.
If a caregiver follows the warning as written, there is an increased risk that the unoccupied booster seat could strike a vehicle occupant and cause injury in a severe crash.
The incorrect warning statement appears in the owner's manual and on the headrest warning label. In a sharp turn, crash, or sudden stop, an unsecured booster seat can be thrown around and could injure vehicle occupants.
Regal Lager will notify caregivers and provide a new label to be affixed over the old label and owners will also receive a new owners manual free of charge. The safety campaign is expected to begin on or about August 10, 2010.
Owners may contact Regal Lager toll-free at 1-800-593-5522 between 8:30 am and 5:30 pm EST. Regal Lager's recall campaign number is 2010-01.
Related Articles:
---
[ad]