It was the bottom of the second inning at Wrigley Field on Tuesday night, when Cubs pitcher Jason Hammel hit foul ball toward the stands on the first-base side.
Dodgers first baseman Adrian Gonzalez went over to make a play on the ball. But before he could get there, a man holding a baby reached out and snagged the ball with his bare hands.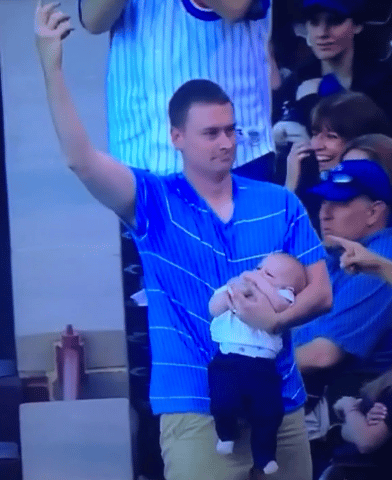 Despite the fact that the baby was actually drinking a bottle, the super-dad didn't miss a beat, or spill a drop of milk! Proud of his big move the dad pointed down at the child, who had barely moved through out the catch as if to say, 'I caught the ball and didn't drop the baby or his bottle.'
Whoa, baby! Dad takes a foul ball away from Dodgers' Gonzalez at Cubs game. https://t.co/8uANO68Q4a

— Dan Cahill (@dancahill_cst) June 24, 2015
Initially many thought that Keith Hartley's wife was unhappy with her husband for putting their seven-month-old Isaac in danger. But he later told the Tribune that his wife wasn't upset with him.
"Kari sat there shaking her head," He explained. "She knew what was going to happen. She knows my athletic prowess and how it was going to go down, and it went exactly as she expected."
The best part of the catch? It was ruled an out for the Dodgers. Likely not the team he was rooting for, but the Dodgers thanked him for his skills.
Thanks for the third out, man. pic.twitter.com/xDQxIuaqx9

— Los Angeles Dodgers (@Dodgers) June 24, 2015
Afterwards Cubs manager Joe Maddon said, "That was outstanding. You worry about the baby, of course, but he looked like he had it under control. Looked like he did it before almost. Great play."
Even Jason Hammel was impressed by the play.
"He was holding a baby and everything," said Hammel, who didn't notice the baby was drinking a bottle during the play. "He was feeding it? That's even more amazing. That's an eye-opener. That was impressive. Best play of the night."
---
[ad]