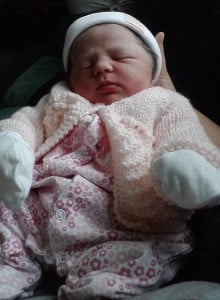 A dad in Newbury, Berkshire had to become midwife to his partner when she went into emergency labor at their home and save his baby when she started turning blue minutes later.
When Emma Habens had a feeling that her baby was ready to arrive she went to North Hampshire hospital in Basingstoke but she was sent home. The next morning she again went to see her midwife but was told that she was not in labor and asked to rest at home.
"They said go home, take two paracetamol and have a lie down. We went home and few hours later I was lying down when it just happened."
Just hours later, Emma's water broke and instead of a hospital and experienced midwives, the mom-to-be only had boyfriend Dave Brown to help bring the baby into the world. 42-year-old Dave is a roofer and had no idea about the process of birth except some scenes he had seen on TV.
However, without panicking, the soon-to-be father helped Emma deliver their baby girl named Maisie and performed CPR on the newborn when she started to turn blue soon after birth.
'I kept telling Emma, "Keep breathing, do your breathing", but I didn't know that's what I was supposed to say, I'd just seen them say it on telly,' he said. "When she (Maisie) came out she was blue. I blew into her mouth and she started coughing and screaming.'
Dave had already called for an ambulance when Emma went into labour but by the time the ambulance arrived, the baby was already in her father's arms.
Sandra Housten, head of midwifery at the hospital, said:
"He was a superdad. Every effort is made to ensure women are assessed and able to spend the early part of labour at home and then deliver safely in hospital. Some babies do arrive quickly once labour starts and the midwifery matrons are always available to talk through a couple's experience of any aspect of maternity care.'
In this case though, it was not the midwives but the father who was available for the baby. – Atula, Staff Writer
---
[ad]