A two-year-old is lucky to be alive after their car seat fell out of a moving vehicle and onto the road as the family drove away, unaware their baby was no longer in the vehicle.
The incident was captured on dashcam video by Chad Mock, who was driving behind the car when the incident happened.
"If it didn't happen in front of me I'd never have believed it… the child was OK," Chad said in a Facebook post.

His video shows the seat falling onto the road as the car veered around a curve. The vehicle appears to stop shortly after the incident, someone shuts the open back seat door and then it continues on while the infant seat(with the baby buckled in) sits in the middle of the road.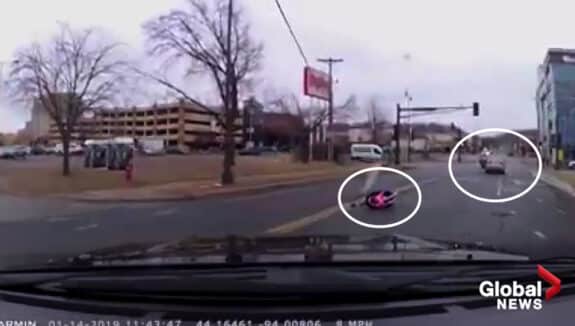 Thankfully Chad and some other passersby rushed to the child's aid.
A short time later the Mankato, Minnesota Police arrived on scene to assist with the care of the child.
The little girl was assessed by first responders and was found to be uninjured.
"The parents came back. Paramedics and police checked the child out as well," Mock said. "Very lucky."
"The child was properly fastened inside the safety seat; however, the child safety seat was not fastened to the vehicle seat," the city said in a statement. "Charges of child endangerment and child restraint system not fastened are being requested."