Boys day out! David Beckham spent the afternoon yesterday at the soccer field with his 3 boys Brooklyn, Romeo and Cruz.
He may be a star to the rest of the world but in his boy's eyes he is just dad.  And just like any dad, his boys climbed on his shoulders and wrestled with him in the grass while watching their older brother play.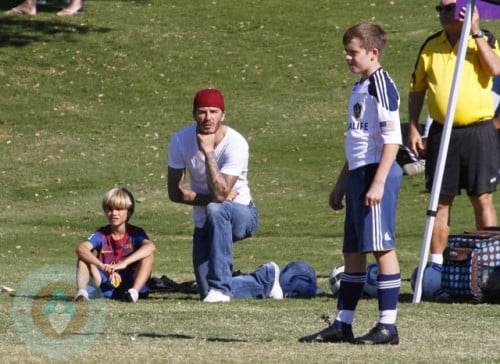 In between play sessions with his younger boys, David practiced on the field with Brooklyn and even tackled him while he was carrying the ball across the field.
Not present for the outing was new mom Victoria and baby Harper.  His ladies, however, weren't far from his thoughts.  Last week the doting daddy revealed his new 'love' tattoo.  Shortly after Victoria tweeted a photo of the baby holding her dad's hand saying, 'Harper loves Daddy's new tattoo of love.'
---
Related Articles:
{FAME}
---