One of my favorite things about Summer is that I'm able to take the kids on day trips. Once a year we'll do a big amusement park, but, for me, I love taking them to museums.
Just 3 and a half hours from our house, Detroit, and some of it's subdivisions, has some really great attractions for families. One of the most popular places to visit in the area, the Ford campus incorporates 5 attractions including Greenfield Village, the IMAX Theater, Henry Ford Rouge Factory Tour and the Benson Ford Research Center. If you visit their website discounts are available for guests who would like to combine admission to more than one attraction. Only in the city for a couple days we chose to just do two.
When you enter the Henry Ford Museum it feels like you are walking into a factory that has been re-purposed into a gallery. The space, however, has always been a museum. One of the docents circulating told me that it was designed by the same gentleman who designed Ford's factories. And it is perfect. The high ceilings, large rounded windows and herringbone hardwood floors are the perfect setting to showcase Ford's incredible collection of American history.
The first thing you see when walk in to the space is Douglas DC3 resting on two metal pedestals. When it was donated to the Museum in 1975, it had spent more time aloft than any other airplane in history.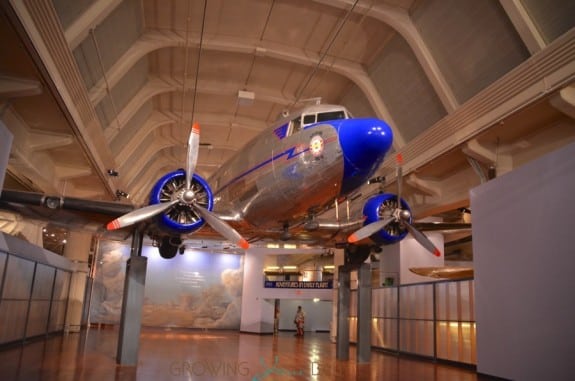 We chose to start on the right with the presidential vehicles. My kids love cars and American history (yes, we're Canadian) so this was a highlight for them. Lined up one after the other are the cars that Ronald Regan, John F. Kennedy, Dwight D. Eisenhower, Franklin Delano Roosevelt and Teddy Roosevelt used during their presidencies.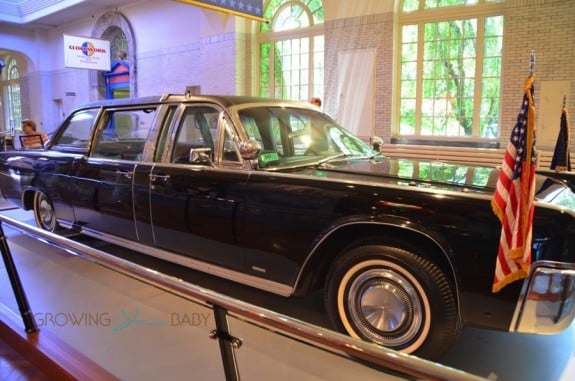 These cars ranged from 1961 Lincoln that JFK was riding in when he was assassinated to a 1902 Brougham Carriage that had space inside for two passengers. Franklin Delano Roosevelt's 1939 Lincoln convertible was an especially significant vehicle for the Ford Motor Company as it began a more-than-50-year run of Lincolns as the "official" White House limousines.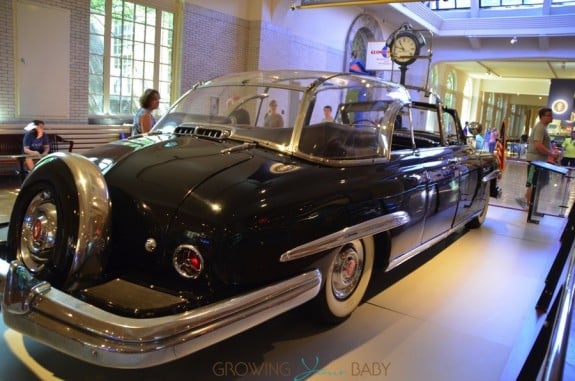 As you round the side of the museum the hallway is bumpered by a reproduction of America's 3rd Steam-Operated Train – The DeWitt Clinton, a 1941 Allegheny Locomotive, an 1858 Rogers woodburning train and a 1909 Baldwin train. In between you can see some of the private cars from a century ago – including one that Henry Ford himself used between 1921 and 1941 that was customized to include room for 8 people to sleep, a dining room and full kitchen.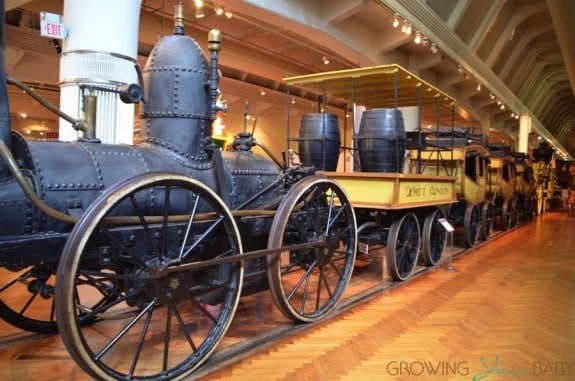 As you meander through the middle of the museum there are many exhibits set up to show the evolution of racing cars, how American's vacation has changed over the years and, also some early energy alternatives like wood, steam, and electric-powered vehicles. In 1900 the Woods Motor Vehicle company introduced the first electric-powered vehicle, and the White company introduced their first steam vehicle in 1905. Their 1907 version is on display at the Ford Museum.
But one of the exhibits I loved seeing was how car safety has progressed over the past 80 years. Dubbed the 'safest car in the world', the 1957 Cornell-Liberty had a panoramic window, rear-facing passenger seat, a center driving seat, bucket seats to cradle passengers, head restraints, and an accordion door. Even though it was just a concept car, many of its innovations led the way for safety features that we see today.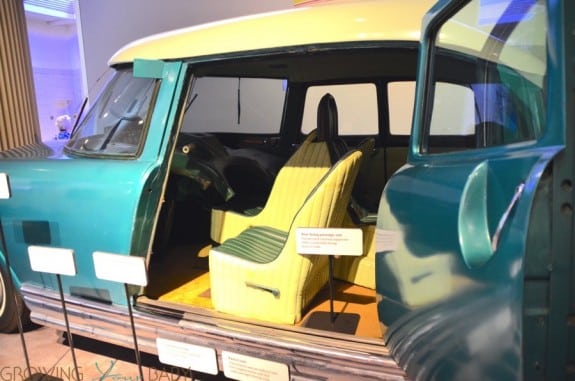 When I was a kid, babies rode on their mom's laps, and toddlers sat on the floor, in the window or anywhere they pleased. I always thought this was the case because infant seats hadn't been created. But the museum has one on display from the 1920s, and others that date from the 60s, 90s, and 2007.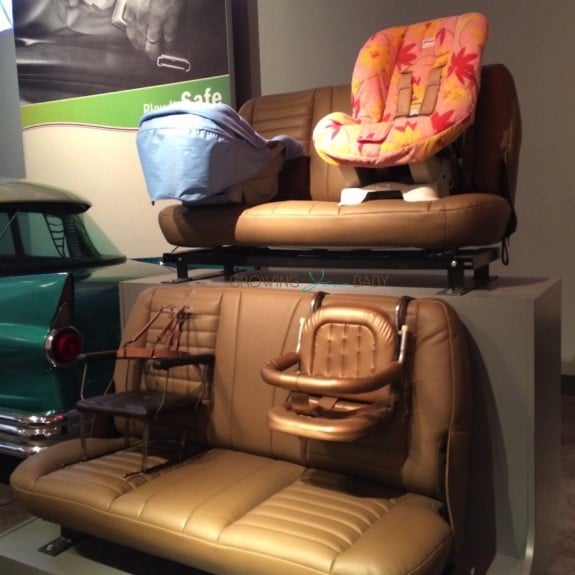 As we walked around the museum the staff was always close by to share information about the exhibits, cool facts, and answer questions. One young gentleman took my boys around the racing car section showing them his favorite vehicles and giving them interesting information about each piece. They loved this and this is the reason why we love museums. Enthusiastic staff can definitely bring an exhibit more to life in a way that kids will remember the information for years to come!
While more than half of the museum is a dedication to planes, trains, and automobiles, the other side focuses more on Americana. In the Liberty and Justice For All section, there is an exhibit dedicated to the U.S. Presidents including the chair Lincoln was sitting in when he was assassinated. The Rosa Parks bus is also on display as well.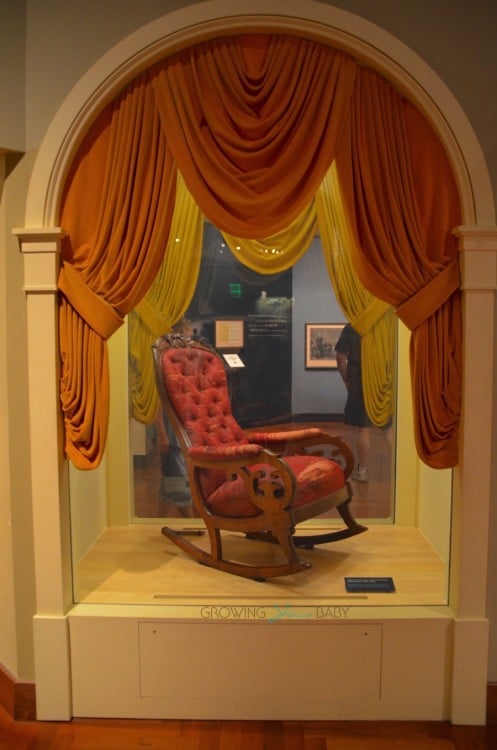 Examples of American furniture dating from 1670 are on display including Mark Twain's writing table and the famous Eames chair.
My kids, however, were ALL over the 1952 Oscar Meyer Weinermobile.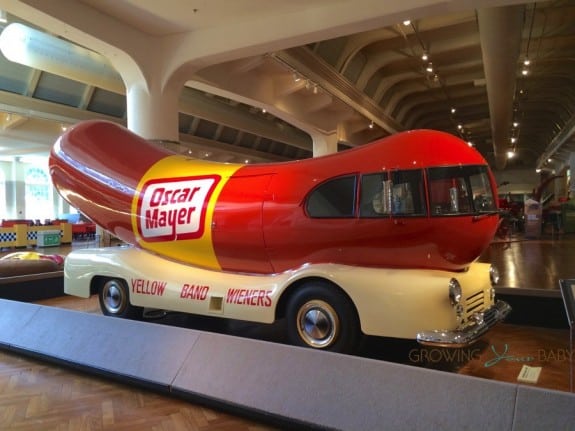 They posed for pictures with it rolled around the leather hotdog display off to the side and insisted we eat at the doghouse adjacent to the exhibit for lunch.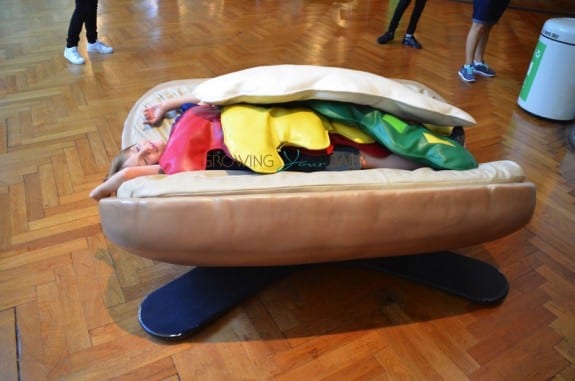 Afterward, we hit the Your Place in Time exhibit where they marveled over all of the innovations from decades past.
If you really want to see the whole museum I highly suggest you give yourself a whole day there. We did the Ford museum one day and Greenfield Village the next day.
Around the museum, you can also buy plastic injection molded figures of some of their famous pieces like the Presidential vehicles, Lincoln, the Rosa Parks Bus, the Weinermobile, The Steam train, and even Henry Ford himself. They're $2 each and visitors are able to watch them being made. Much like the crushed penny machines that you see at various attractions, this is a way for kids to remember their trip. We may have left with many of these figures….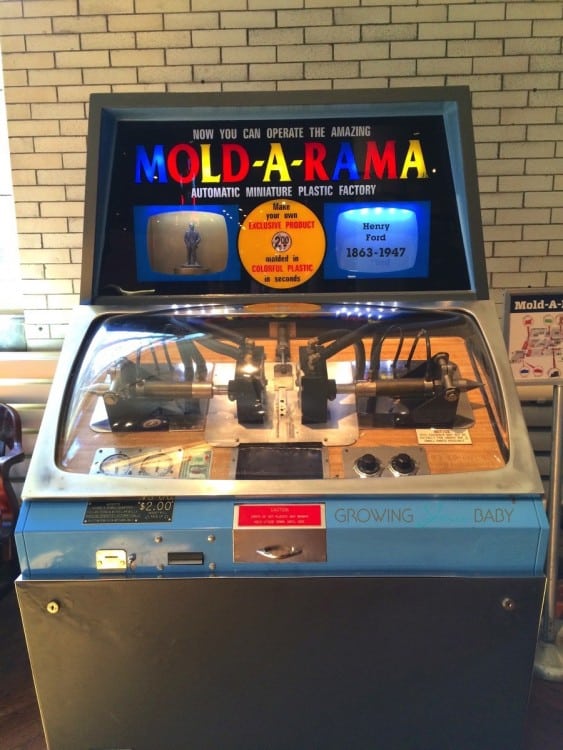 I have to say that the Ford Museum is one of my favorite museums to date. There was a good selection of items from every facet of American life, and a lot of great information to help appreciate where we were yesterday, and how we got to life today.