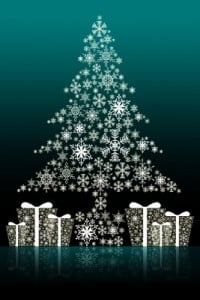 Are you feeling as stressed as I am?  It's Christmas Eve and I have literally a million things to do and just a couple of hours to pull it all off, which makes me think that lots of things aren't going to happen.
It all started so well.  At the end of November I was organized, we bought a new tree, I got it decorated.  I even made decorations with the kids.  What I was getting for each person was planned out, I was even going to do cookies this year.
Well, life it appears, had a different plan.  I worked too much and now I am a little more than behind.  Thankfully the big stuff is done.  Presents are bought and wrapped, stockings are ready to go AND the Christmas cards are out.
I just wish that there was more time to enjoy the season as opposed to always be running from place to place trying to prepare for it.
I also wish I hadn't read so many Christmas Magazines and posts on other sites.  Nothing stresses you out more than looking through a blog and seeing another mom baking, crafting and blogging about it continuously for last 30 days.  Where does everyone get the time?
I have learned some lessons from Christmas' past and did a few things this year that reduced some of the Holiday stress.
1.  I had the card company print our return address and the addressee's information on every card.  It was an extra .25 a card and worth every cent.
2.  This afternoon I will be visiting our local bakery and picking up a couple dozen of their yummy holiday cookies.  No one will care that the bakery made them, just if they taste good.  This will also give me time to make brownies for our visit tomorrow.
3.  Did lots of shopping online.  If something I wanted was the same price online as it was in the store I bought it and had it shipped to me.  It costs me less to buy gifts online because you don't have the temptation of the million things in the store.  No impulse buying as you're walking to the cash register.
4. Re-adjusted my expectations.  This season is about family.  Sitting with your kids watching movies, enjoying games together, catching up with friends and family.
So, whether your house looks like a disaster or you haven't done homemade snowglobes with your kids, the important thing to remember is that you can't do everything.  If you have things to do today, try to hit the one store that might allow you to get the most things off your list at once.
When 6'oclock comes shut off your brain, turn on a good Christmas movie and enjoy the next couple days with your family.
You deserve it!
Merry Christmas to all of our readers that celebrate it and Happy Holidays to those who will be celebrating over the next couple weeks!
Related Articles:
---