The clothing label decaf plush has a totally funky collection of tees, hoodies and dresses in bright, vivid colors and prints embellished with bold appliques of animals, fruits, mushrooms or airplanes.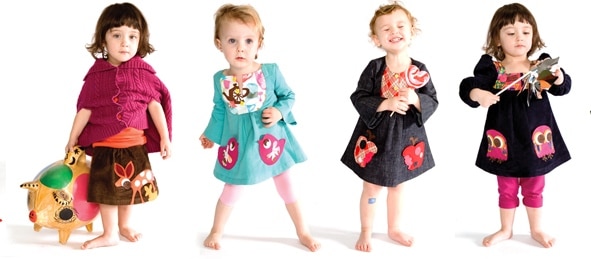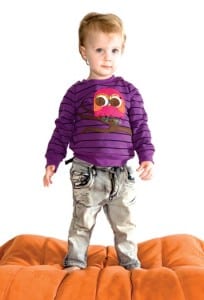 Dresses are available with sleeves, both long and short, or sleeveless in bib, smock or a-line styles and some dresses have additional bold strawberry, apple or bird pockets!  Tees and hoodies are made from cotton American Apparel bodies with felt or fleece appliques.  Dress fabrics range from 100% cotton quilting fabric, corduroy or canvas, and applique embellishments are made from 100% Eco-Fi synthetic felt.  Styles are available to fit kids from 6-12 months through to 6 years.
Personal favorites would have to be the darling 'Mushroom pocket dress in green organic canvas', the funky 'A-Line dress with applique planes' and the totally unique 'Navy hoodie with octopus applique'.
All pieces from decaf plush are proudly sweat-shop free and made in the USA.  So for some wonderfully bright retro-inspired clothing pieces for baby and toddlers, head on over to decaf plush! – Belinda, Staff Writer
---
Related Articles:
---