The new DECT Baby Monitor by Philips is supposed to be the "cats meow" in baby monitors.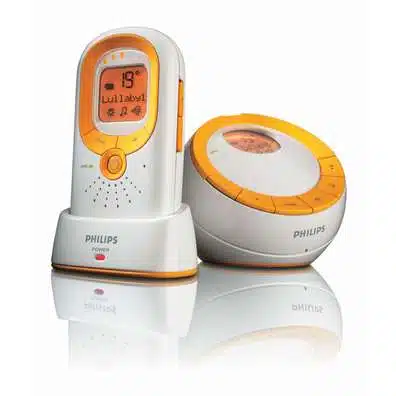 Not only do they guarantee zero interference but the digital technology provides a secured, private connection, because you want to be the only one listening to your baby.
The monitor automatically chooses an unused channel and switches as it detects another device using the same channel.
Some of it's great features:
Indicates a continuous connection between the baby and the parent unit with visible and audible link indicators.
Provides the ability to allow you to talk back to the baby
Uses lights to indicate if the baby makes noise, even with volume off.
Remotely monitor the baby's room temperature for extra comfort and control.
Ultimate mobility in and around the house
Small, mobile parent unit to freely roam around the house.
Allows you to freely roam around the house due to the small size, but still hear when your baby needs you.
The neck cord provides hands-free convenience and mobility: clip the parent unit to your belt or wear it around your neck.
With a range up to 300M you are ensured a secure reception in and around the house.
Rechargeable parent unit for minimal 24 hours of monitoring.
The rechargeable parent unit gives you a minimum of 24 hours of cordless monitoring with a range of up to 300m (900 feet).
Travel pouch protects units while traveling
Soothing words
Comforts the baby in the dark with soothing stars
Nightlight with soothing stars to comfort your baby.
Five lullabies soothe baby to sleep
I love this monitor. Can you believe it plays lullabies, monitors the room temperature and lights a pattern for your child? Where was this darn thing a year ago when we were looking for one?? I got one from Safety 1st and the only thing I can hear on mine is our neighbour reading bedtime stories to her son. The sad part is that we aren't even on the same channel!!
---