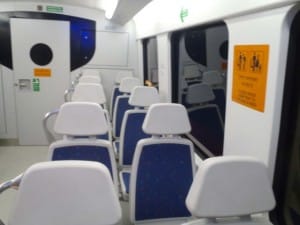 Transporting around 1.8 million passengers on work days, the Delhi Metro station is used to handling emergencies. So much so that the subway route has tie-ups with the ambulance services across the city, and station staff are provided with a list of phone numbers to all of nearby hospitals. However, most of the emergency calls have been for minor issues – commuters feeling dizzy or ill; they've never had to make a call regarding the delivery of an infant…until recently.
On Sunday morning, Juli Devi, 27, and her husband, Sanjit Singh, hopped on the metro train on their way to the Safdarjung Hospital. Being that it was a Sunday, she and her husband had the compartment they were sitting in almost all to themselves, and that's probably a good thing because their baby decided it just couldn't wait.
"Juli Devi, who boarded the train in Badarpur, was traveling with her husband Sanjit Singh. She gave birth to a baby girl in the moving train as it was approaching the Central Secretariat station," said a metro station representative. "As the incident occurred at early Sunday morning, there were only about six people in the particular coach. As the other passengers heard Juli Devi's cries becoming more intense, they informed the driver near the Khan Market Metro station, a stop before Central Secretariat. The metro driver informed the operation control center (OCC) in Metro Bhavan, the headquarters of the Delhi Metro Rail Corporation (DMRC) on Barakhmaba Road, over phone, and they immediately arranged an ambulance and a team that the Central Secretariat Metro station within three minutes."
But just before the train made its stop in the station, Juli gave birth. Once the train stopped, emergency personnel boarded the train, loaded up mother and baby and took them to Ram Manahar Lohia, the closest hospital. Delhi Metro handled the necessary hospital formalities for mother and baby, and even plan to cover the hospital charges incurred. Talk about a wonderful "birth"day present!
No one else knew that the train had experienced a medical emergency until the official announcement. Coincidentally, the train's services were not actually affected by the baby's birth. The stop that mother and baby were taken to the hospital at is the last stop on the train's route. The train generally takes a short break at this stop before turning around and heading the other direction.
Related Articles:
---
[ad]