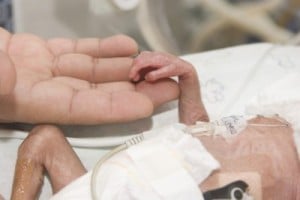 In July of last year, Kelsie Hemmings was at her local Tesco, buying a drink, when she realized that her waters had ruptured. Hemorrhaging and having already delivered her baby's umbilical cord, Kelsie was rushed to a specialist unit at Chelsea and Westminister Hospital. Doctors thought her baby might already be dead, but a fetal check proved them wrong. From that moment on, little Lacey-Jane has made a practice of proving doctors wrong, and now, at seven months old, she's nothing short of a little miracle.
"One doctor thought she was already dead," Kelsie told Daily Mail UK. "Forty-five minutes later they resuscitated her. They didn't think she would live any longer than an hour But I knew she would."
Born exactly at one pound and younger than 24 weeks, doctors didn't have to try and save little Lacey-Jane because babies born that early sometimes have a slim chance of survival. But it's a good thing they did. After five months in the hospital, she was home. She even made it home in time to celebrate Christmas with her three older brothers – Marley, four; Jayden, three; and David, two.
"Christmas was fantastic," Kelsie said. "She had been in hospital for a few days because she had really bad bronchitis but came out of the hospital on Christmas Eve. She smiled for the first time on Christmas Day, which made the day."
And now, despite suffering from chronic lung disease and a bleed on the brain, doctors are "amazed" at the improvements she's made. In fact, Lacey-Jane is doing so well that her mother is already talking about birthday plans.
"The first three months I took day by day," Kelsie said. "She had a good day followed by a really bad day. When she hit the four-and-a-half month mark, her heart stopped. But when it came back, she made a recover, and since it has been amazing…We are getting back to normal and we will have a birthday party for her."
Related Articles:
---
[ad]