After your child has mastered stacking, the next group of toys that are perfect for further developing cognitive, fine motor and hand-eye co-ordination are balancing games.
Balancing builds on the same skills needed to be able to stack, but adds in advanced problem solving skills and a steady hand.
Many of the toys we have found are wonderful for developing creative play as they provide children with the ability to choose how they want to play for themselves.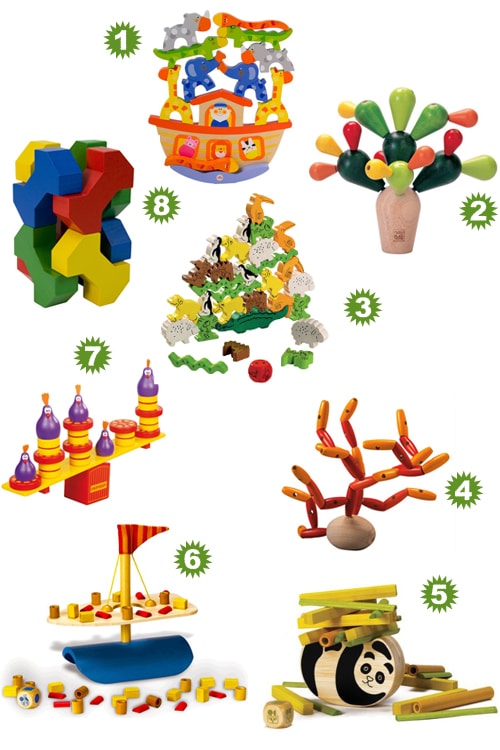 Sevi Balancing Ark – There isn't any room left in the ark so all of the animals need to be piled on top! But this may not be as easy as it seems, especially as the Ark doesn't have a flat bottom. This game comes with the colorful Ark and 10 animals to balance. Sevi toys come with a lifetime warranty against defects in workmanship and materials. Colored with safe, vegetable-based dyes.$35
Cactus By Plan Toys – This colorful cactus was designed for kids 3+. The object of the game is to try to add or remove cactus stems from the tree without making it fall over. Each player gets a turn to help build the Cactus tree, but beware if you make the cactus fall over first you loose! Comes with the tree base with 5 holes and 18 different colored branches. Made of earth-friendly and replenishable rubber wood. $25
Haba Animal Upon Animal – This wobbly stacking animals game designed for 2 – 4 players requires kids to show how capable they are at making a tall pyramid! Who will position the penguin on top of the crocodile, the sheep on top of the penguin, the serpent on the sheep, the toucan … Comes with 4 of each animal to be stacked on top of the alligator. $20
Balancing Coral from Plan Toys – This eco-friendly game can be played 3 different ways: horizontally, vertically and diagonally for the more advanced players. It includes a wooden egg-shaped base with 4 holes, 14 various colored pieces and is made of earth-friendly and replenishable rubber wood. $40
Balancing Bamboo Pandabo by Hape – With this game you want to be the last to finish. Players take turns adding sticks on top of Panda. The more sticks added the more difficult to maintain balance. Be careful if they fall on you turn, otherwise you are out of the game. Comes with 1 Bamboo Panda, 24 sticks in three shapes and 1 dice. Made with 100% natural bamboo. $15
Cagola Balancing ship by Hape – With this game kids roll the shape-based die and take turns loading bamboo shapes onto the boat's deck – but watch out for rough waters: Choose your position carefully or you'll end up overboard and out of the game. Made from bamboo. Neatly packaged in sturdy storage tube with a bamboo handle that is ready for gifting. $15
Chickyboom from Blue Orange – As the chickens hang out on their colorful perch, your child must collect as many chickens, hay bales and wagon wheels as you can before the rocking roost topples. A game of balance, laughs and fun where the roost goes Chickyboom! Comes with 6 wooden chickens (3 big, 3 small) , 7 wooden hay bales, 7 wooden wagon wheels, 1 wooden rocking perch (1 platform, 1 base). Ages 5 and up. $25
Bone by Sina – This seemingly simple game comes with eight multicolored bone-shaped wooden blocks that can be balanced in all sorts of gravity defying formations. $48
Related Articles: