Over the past couple years, I have switched from a tote to a backpack in order to keep my hands free to help my kids while we are out.
I love that I can load everything I need for the day out into a backpack and still have room to carry some of my own gear as well.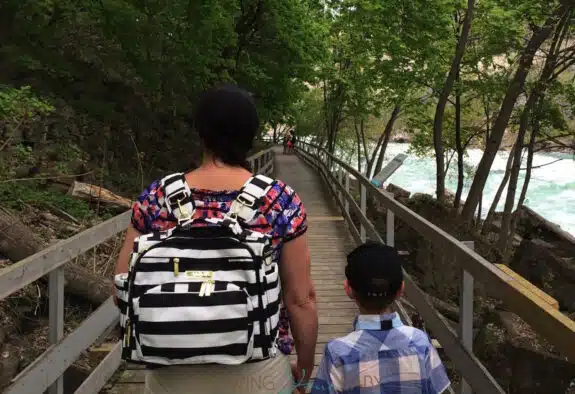 We are well past the diaper stage, but I chose to carry diaper bag backpack because baby gear companies are incredible at creating bags that are stylish and beautifully organized.
If you are in the market for a new diaper bag and want to be hands free we have rounded up 10 of our top picks!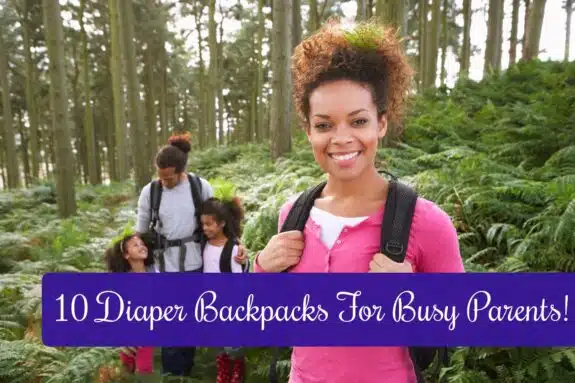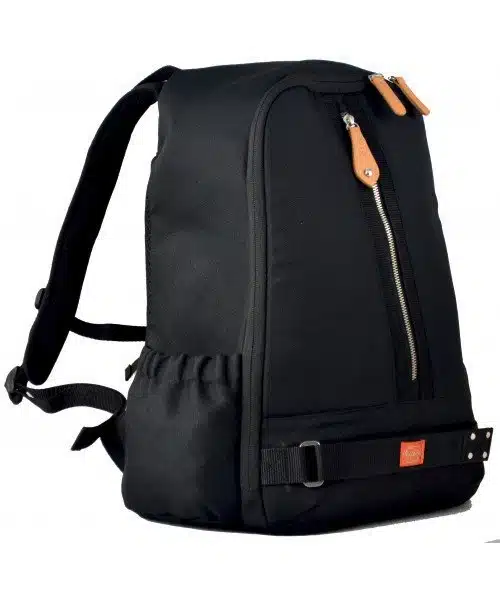 PacaPod marries design and convenience to create diaper bags that are perfect for parents of all styles. The Picos Backpack is one of our favorite bags because it has a huge interior for parents to store everything they need for the day and more.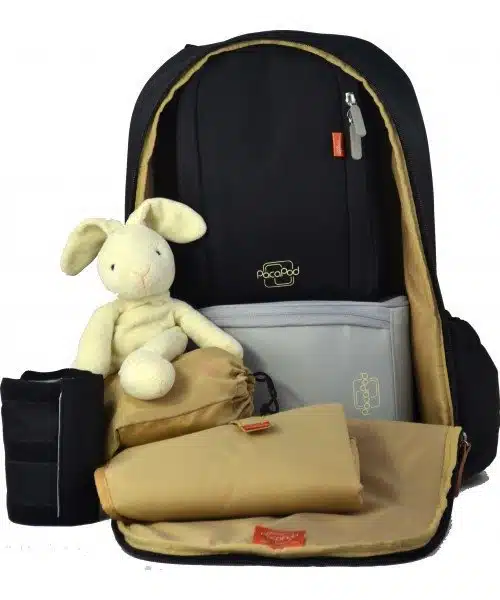 The inner cargo hold, which stores the unique feeder and changer pods, keeps everything hygienically separate. The pack also has 2 side pouches for drinks, a front zippered pocket and comfortable backpack straps with chest harness.
You can check out our VIDEO REVIEW here.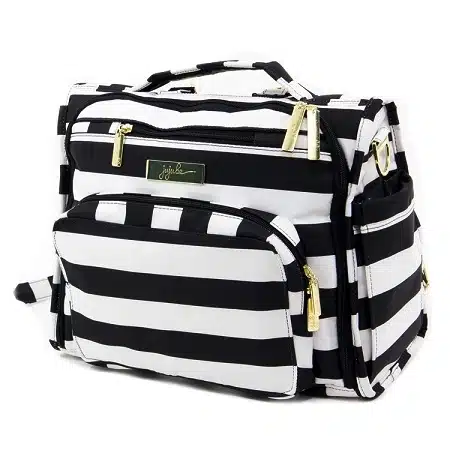 Well known for their practical design, Ju-Ju-Be's BFF Diaper Bag is one of our favorite bags because it offers parents 4 different carrying options and so much interior organization you will never lose anything again!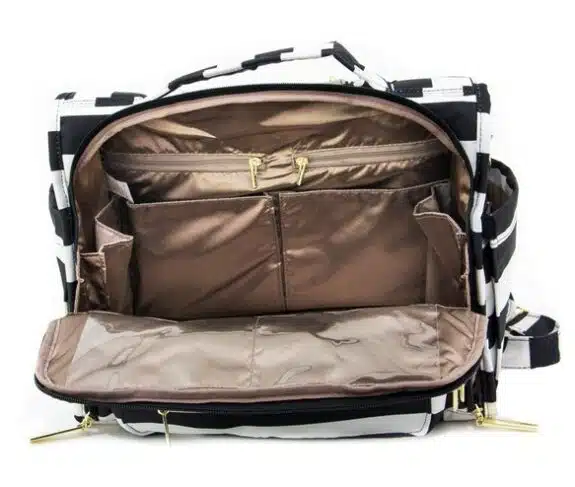 The BFF comes with detachable shoulder straps and messenger straps. Your can also use the top handle to carry it or attach it to your stroller.
Ju-Ju-Be is famous for their Teflon™ fabric protector which helps repel stains and their Agion® treatment that protects the liner by inhibiting the growth of odor-causing bacteria, mold and mildew.
Plus, all of their bags are machine washable!
You can check out our VIDEO REVIEW here.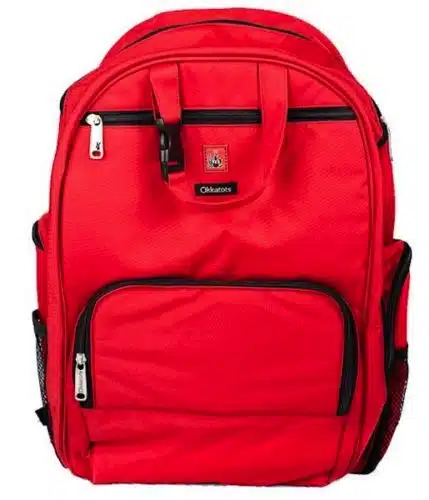 The Okkatots Depot Diaper Bag offers a ton of storage. With a diaper station that includes a soft changing pad, a removable wipe dispenser, and space for sixteen large diapers this bag if perfect for a day of travel. An insulated pocket holds several baby bottles or sippy cups, a ventilated pouch will keep two pacifiers clean and dry, while a waterproof pouch locks in moisture to keep everything else dry.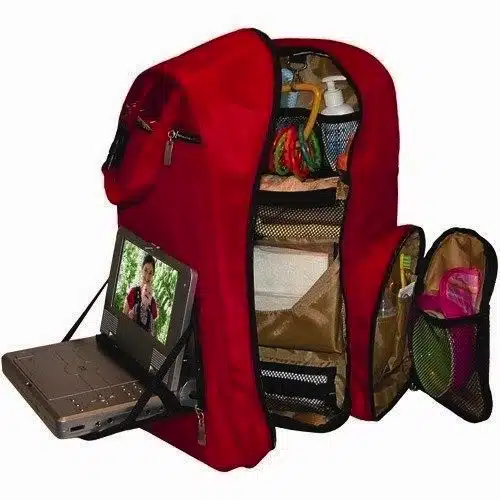 This bag also opens two ways for convenient access: like a regular backpack from the top or unzips all the way around to open like a book.
Versatile carrying handles clip and unclips to hang from hooks, rods or stroller handlebars while the hard, durable base keeps bag upright by itself.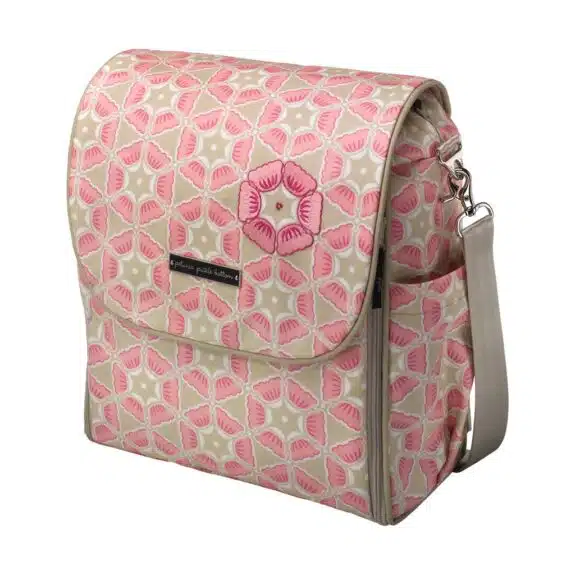 Famous for its bold, stylish prints, Petunia Pickle Bottom also creates well-designed bags that keep all of your must-haves organized. The Boxy Backpack has a spacious interior with 5 pockets (2 specifically to stow bottles) and a key clip. On the outside, there is a zip-out diaper changing station for babies with a removable changing pad and pockets for diapers and wipes.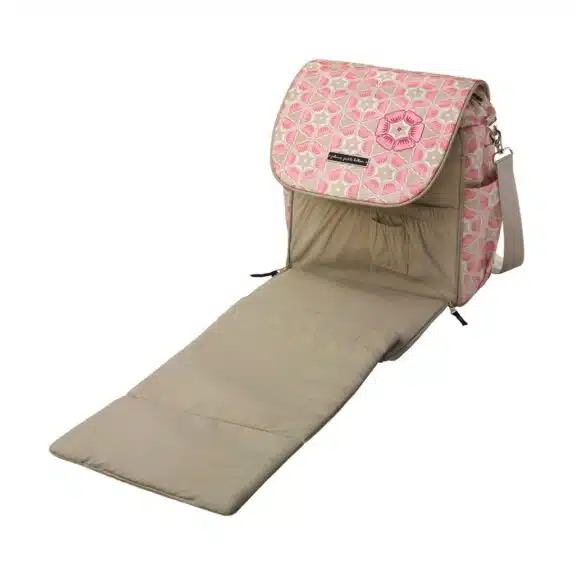 The Boxy Backpack attaches easily to most strollers with Valet Stroller Clips® (sold separately) and can be carried 2 easy ways; Backpack with adjustable straps or cross-body/on the shoulder with long, adjustable strap.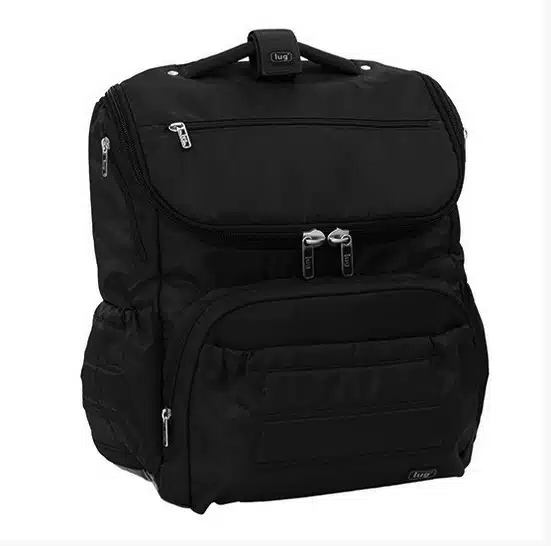 Lug's Pitter Patter Backpack Diaper Bag is the perfect hands-free solution for parents on the go! With four exterior zip pockets and three cargo pockets, there is room to carry all of your gear and accessories. A wide-mouth main opening gives parents easy access to interior contents and a ventilated zip compartment on the back is perfect for separating soiled clothes and diapers from the interior contents. The bottom is wipeable, the padded shoulder strap includes a cell phone pocket and the exterior of the bag has been specifically treated with a water-repellent finish.
Laessig Backpack Bloom($95)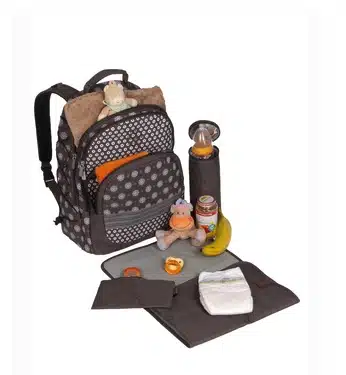 This convenient Backpack was designed with well-organized inner compartments, and a changing mat insulated bottle holder.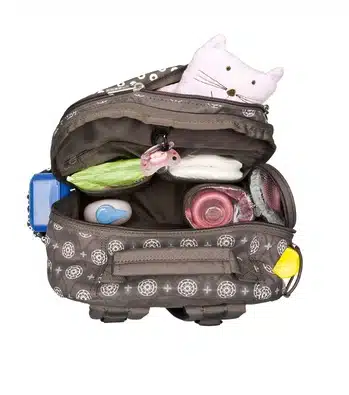 You can store everything you need for baby in both large compartments, which are divided into smaller storage spaces. Bottles, diapers, wet wipes and jars all have their own place in the bag in the many additional pockets, some of which are insulated. A washable changing pad is also included for quick changes.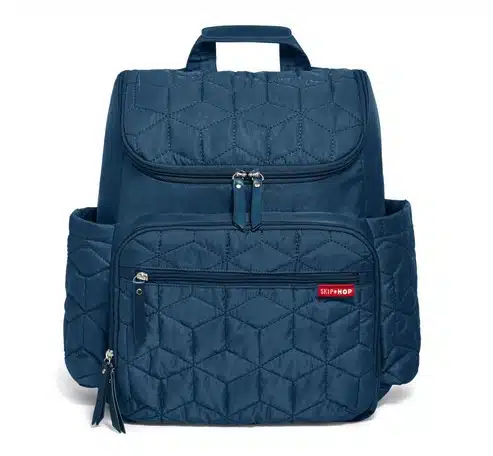 The Forma Backpack is stylishly designed with a lightweight fabric and quilted detailing. This backpack offers the convenience of hands-free parenting on the go with tons of storage for your essentials. The spacious interior has room to tote everything from snacks to spare outfits and the extra wide opening makes it easy to find essentials in a pinch. The front compartment includes 2 multi-purpose packing cubes and allows for extra storage. Everything stays in reach with elasticized interior pockets and insulated side bottle pockets.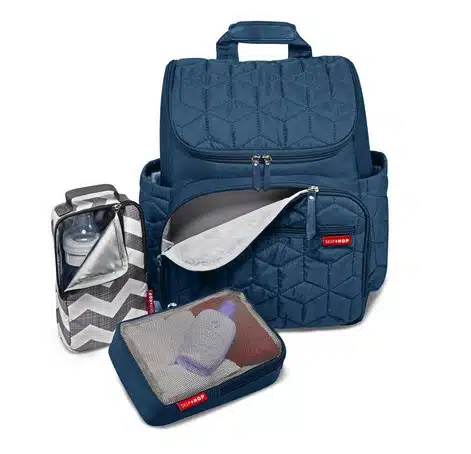 The changing pad pocket performs double-duty, acting as a laptop holder when traveling. With the Forma backpack, function meets fashion to take you from birth to toddlerhood and beyond in style.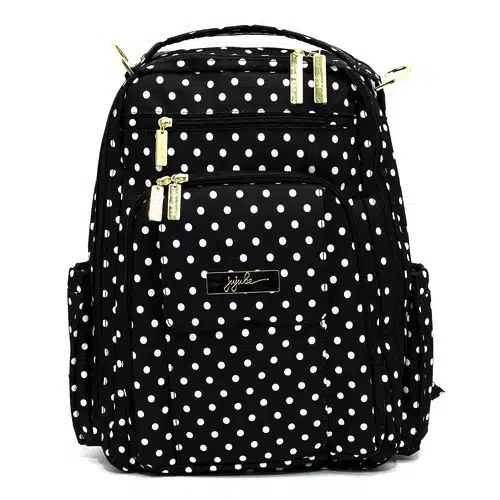 This stylish backpack is ergonomically curved with padded shoulder straps to keep parents comfortable during long days out. To keep everything organized, the Be Right Back has 4 main pockets, 5 zippered pockets, and a "mommy" pocket to hold your personal items. Just like Ju-Ju-Be's other bags, this backpack has a Teflon-treated outer fabric and Agion antimicrobial-protected lining.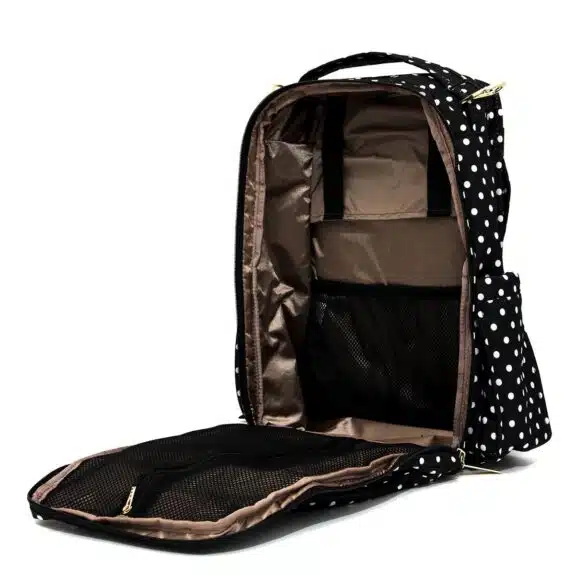 It also has a back panel zipper compartment and with an 11.5-inch opening, it is also suitable for tablets, small laptops, magazines, etc.
DadGear Backpack Diaper Bag Basic($99)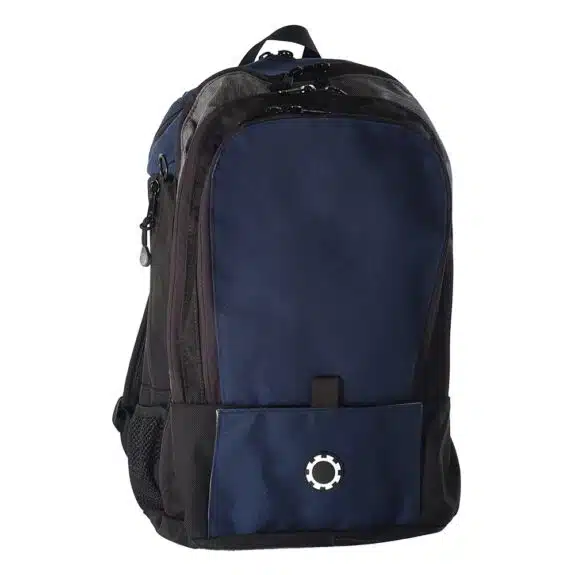 This Daddy Diaper Backpack offers ample storage space and extreme organization for both mom and dad. It's roomy and rugged with an impressive 13 easy-access compartments including the Diaper Hammock and a convenient quick-access baby wipes window that keeps essentials close at hand.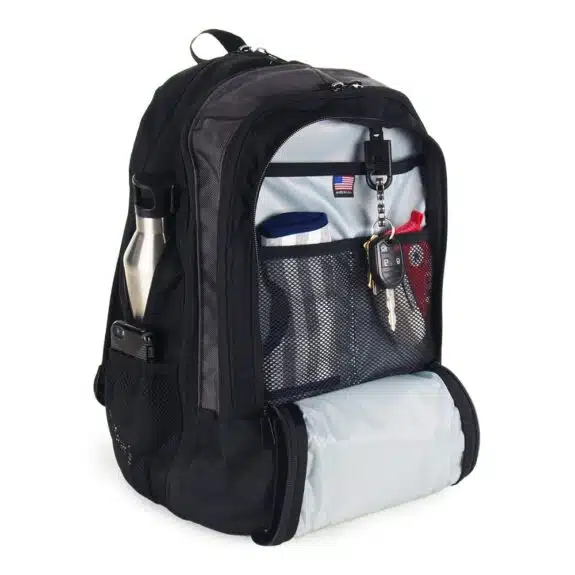 The Daddy Diaper Backpack is ergonomically shaped with padded shoulder straps to make carrying the pack very comfortable. Parents can also use the integrated straps to easily hang the Daddy Diaper Backpack from a stroller!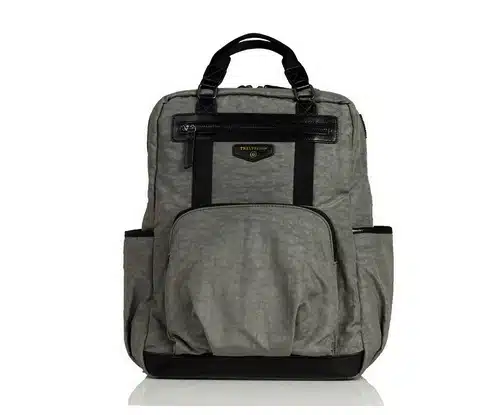 This stylish Backpack was designed with durable water-resistant crinkle nylon and sheep leather trim. Parents can store all of their must-haves in the two large front zipper pockets, while a hidden zipper pocket on the bottom of the back side offers dirty items quick storage.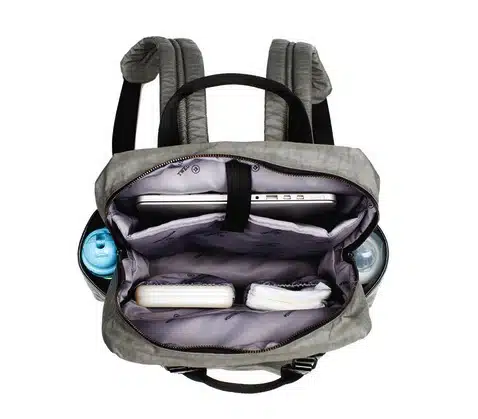 The top of the bag opens up for easy access and an interior padded pocket is larger enough to hold a laptop or iPad.
The Unisex Courage Backpack comes with a logo-lining nylon changing pad and two insulated side bottle pockets for carrying water on a day out.
Free of harsh chemicals such as PVC, BPA, and Phthalates.