"What a world. It could be so wonderful if it wasn't for certain people." So said Woody Allen in Radio Days, and it is a sentiment that certainly is shared by the millions of families with a disabled family member who visit Disneyland in California or Walt Disney World in Florida. That's because effective October 9th, disabled park visitors and their guests will not be allowed to move to the front of the lines of rides they want to experience at the park, as is currently the case.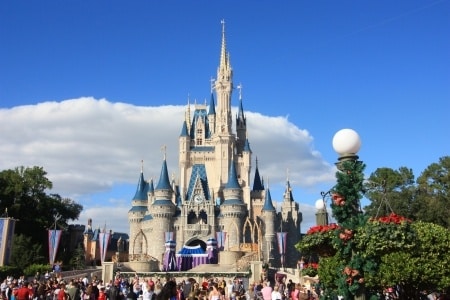 But Mickey Mouse and company aren't really the villains in the black hats in this case – their hand was forced by the true bad guys – rich families who hire disabled "guides" (for as much as $1,000 a pop) to accompany them to the park and, therefore, allow them to jump the queues on all the park's rides.
"We have an unwavering commitment to making our parks accessible to all guests," Disneyland Resort stated in an official release. "Given the increasing volume of requests we receive for special access to our attractions, we are changing our process to create a more consistent experience for all our guests while providing accommodations for guests with disabilities."
The current policy "certainly has been problematic, and we wanted to curb some of the abuse of this system," Suzi Brown of the Disneyland Resort, told the Orange County Register.
The new policy will require visitors with disabilities to acquire a ticket for a ride that will have a return time printed on it, telling them when they can access the ride. While this policy seems reasonable enough to the general population, anyone with a special needs child, especially one with autism, knows that patience is not one of their child's virtues. Special needs kids can be quite impulsive, and being told that they can't do what they want – when they want to do it – can disrupt the child's emotional state for hours.
"My boys don't have the cognition to understand why it's going to be a long wait," explained Rebecca Goddard, frequent visitor to the park and mother of two autistic boys, to the Register. "There are so few things for my boys that bring them utter joy and happiness – to mess with it just makes me sad."
And it's not just autistic parents in an uproar over this change in plans, as Michele Williams told the Register.
"If we're forced to go to a kiosk instead of the ride to sign up, that is further from the ride and it's causing a handicapped person to actually work harder for the same access," explained Williams, whose son uses a wheelchair.
Disney, for their part, tried their best to make changes that would work for everyone – they even consulted with Autism Speaks on the new program. But, from the nearly 32,000 names signed on an online petition at MoveOn.org attests, Disney has its work cut out for them to come up with the happy ending that we are used to seeing in their movies. ~ Jeff, Staff Writer.  Dad to two boys, one with extreme special needs.
---