When we started cruising the only way we could afford to sail was to stay in an inside cabin. Young, and in love with seeing the world, waking up docked at a new island was worth the space and comfort sacrifice we would make in order to be able to afford the trip.
Fast forward to two kids plus double the gear and a balcony is definitely the way to go!
Cruise ships do sometimes get a bad rap for the size of the rooms you get. With space at a premium, cruiselines do a great job of keeping the room functional while creating a space that is comfortable for up to 4 people.
Last week, as part of Disney's Social Media Mom's Conference we sailed on the Disney Dream and stayed in one of their balcony cabins.
Having sailed with many cruiselines, I appreciated that the Deluxe Oceanview Stateroom with Verandah was 246 sq. ft. The largest standard balcony we've sailed in outside of a suite, the cabin also came with some additional features that made our trip more comfortable.
Let's start with the Queen bed. It was a dream. Literally.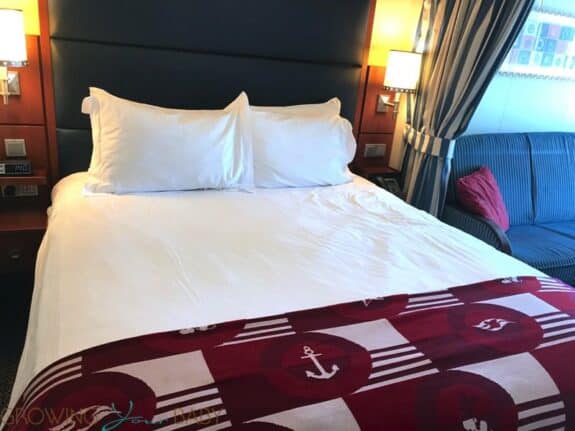 I will honestly say the hotel bed is not something I coo over unless it's extra comfortable – and this bed is EXTRA comfortable. Like lay down, sink in, and fall asleep immediately comfortable. I can't tell you how fantastic this was.
I also love that Disney splits the bathroom into two rooms AND puts a tub in for little ones. Cruise ships are notorious for their incredibly tiny bathrooms. The shower is normally a tiny tube you can not bend over in and everything is packed into one small room which makes getting ready in the morning a bit of a challenge. Have two spaces with two mirrors and TWO sinks was perfect. It also meant no one held the whole team up. Also, tubs on cruise ships are normally only in suites. Having a tub in a standard balcony was really nice.
Disney also provides some body lotion, soothing gel, shampoo, conditioner, and body wash. I've stopped traveling with shampoo and conditioner so this was a plus! The gel was a bit of a surprise. It's the first time I've seen it offered. As life would have it, there was a need for it after our first day.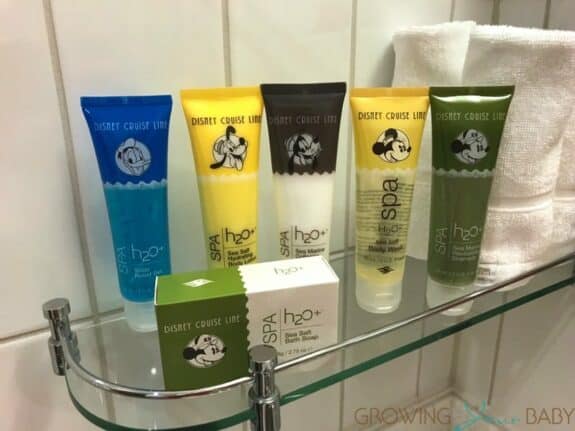 They also have the sweetest towels because it's all about the details!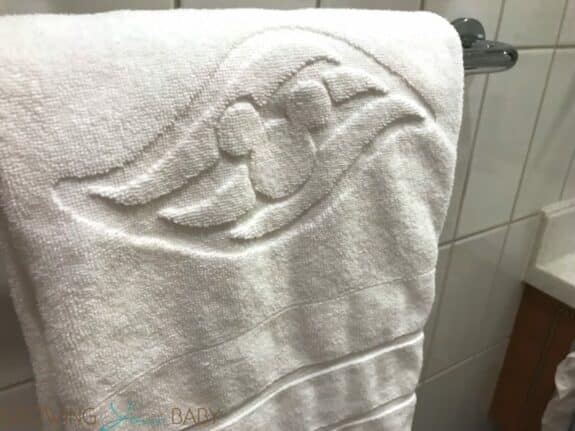 To store your clothes and valuables there are two closets with lots of hangers, drawers and a safe.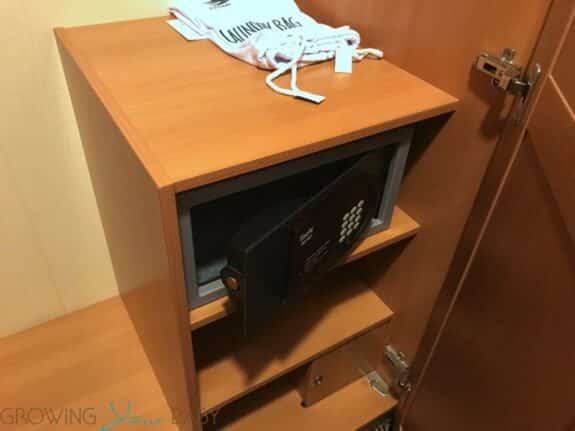 The cabin also comes with a living area that doubles as a bunk for passengers 3 and 4.
After dinner the cabin steward would come in and convert the couch to a bed and pull down the second bed from the ceiling. He also sprinkled chocolates on each bed – which made him very popular with our crew!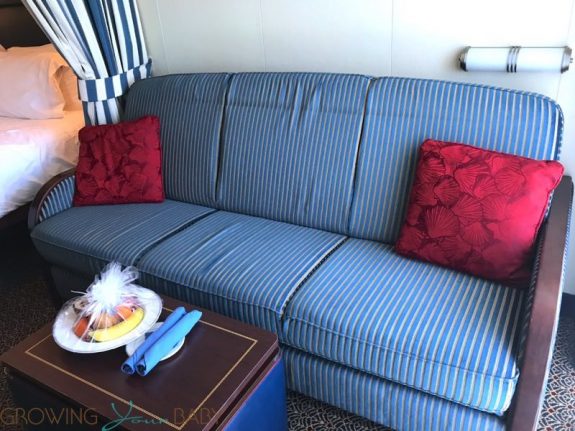 The kids were pretty excited about the on-demand collection of movies offered through the room's TV. They were also able to pause their spot if it was time for bed. The desk in the living area was great as a second spot to get ready. It also houses most of the power outlets in the room.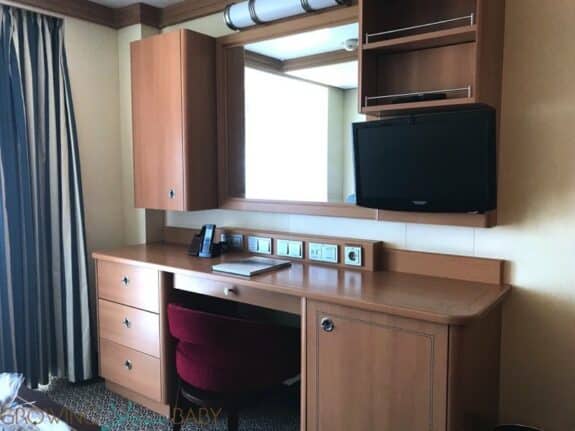 Underneath the left side was a fridge – which was perfect for storing snacks.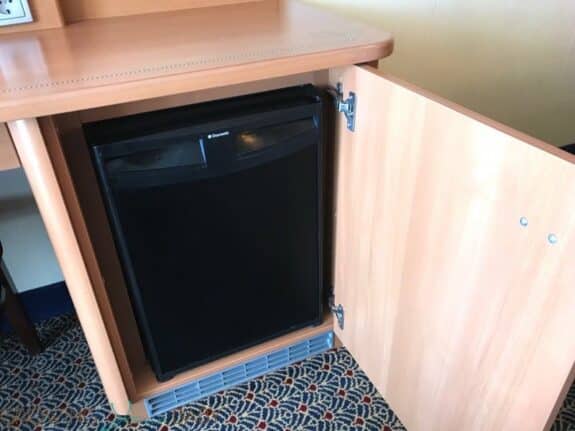 Each cabin comes with Wave phones. These portable phones allow you to call your room or any room on the ship from anywhere. My husband and I used to use these to keep in touch with each other while at the pool. But on this trip the kids took turns taking them with them to keep us in the loop about where they were.
Disney has an app you should download to stay in the loop about all of the events happening on board, character photo sessions and hours of operation for all of their restaurants, lounges and shops. You can also use the messaging feature to stay in contact with your party if your kids have stolen your wave phone.
The best part of our room was the balcony. This is my favorite spot to sit at night, during a day at sea or while we're coming into port. A small space, there is enough room for 2 chairs and a table. The true gold, however, is the view. Nothing is more relaxing than sitting on your chair looking out into the ocean. In past years we've seen dolphins during days at sea so have a good look because you may see them jumping beside the ship.
If you're planning to cruise on the Disney Dream I highly recommend paying a little more for the verandah cabin. Aside from getting a little extra space, you also get a little bit of serenity!
To see more of the cabin please watch our watch through below: