This year, as part of their new partnership with Hasbro, Disney Princess has debuted the Royal Dreams Castle just in time for the holidays!
Over 3 feet tall, this gorgeous palace features 4 furnished rooms – each room themed around a Princess!
Out of the box, there is some assembly required, but the whole set clips together and can be installed in 25 minutes, including the sticker application.
From front to back, Hasbro has added some sweet touches that give a nod to each of Disney's 11 Princesses.
As you enter the castle there is a grand foyer, which also doubles as a ballroom.  This space has pink floral floors and columns that stretch to the second floor.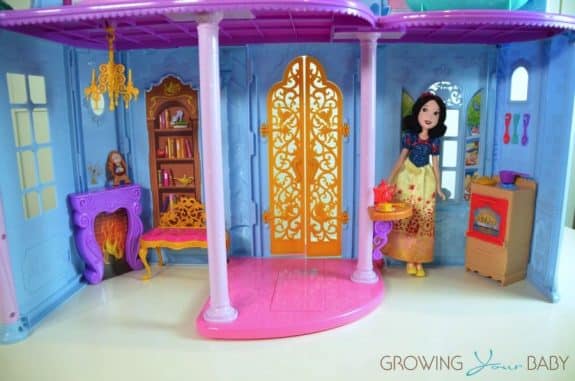 To the right of the entrance, is Snow White's kitchen, where kids can make a pie or whip up their favorite meal with the stove and all of the included accessories.  This area comes with 5 kitchen utensils including, kettle, pot, cup, stove, seat, along with Snow White's pie and plate with pie.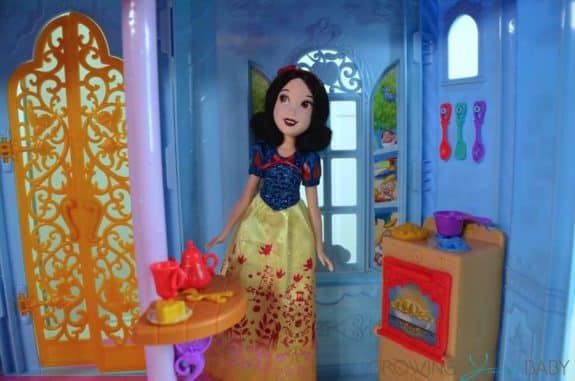 Across the hall, Belle's library is furnished with a fireplace and chaise.  The 'window' in the room doubles as a bookcase from the inside and a look into the ballroom from the outside.
The three windows in the castle are cardboard cutouts that you can pop in while you are assembling the palace.  Each window depicts a scene that applies to the room you are looking into.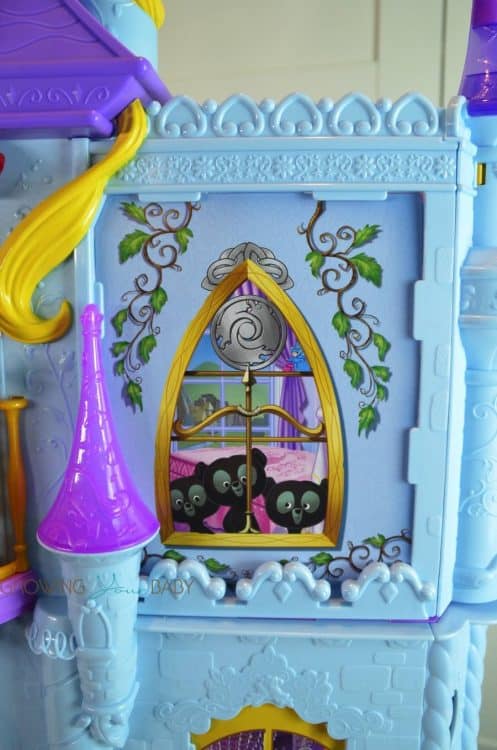 Normally I'm not fond of cardboard cutouts as they tend to pop out when kids play with the set, but the ones in this set appear to be quite sturdy and we haven't had any issues with they coming out while the kids are playing yet..
To get to the second floor, Hasbro has added a magic carpet elevator ride for Jasmine where kids just lift the handle and then release to see the carpet glide down!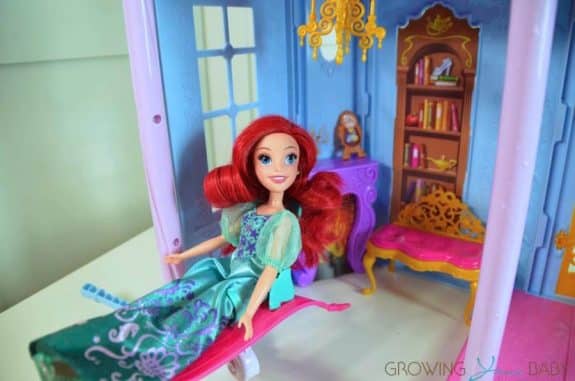 On the top floor, Sleeping Beauty can rest in her canopy bed or relax in the shell tub of Ariel's bathroom.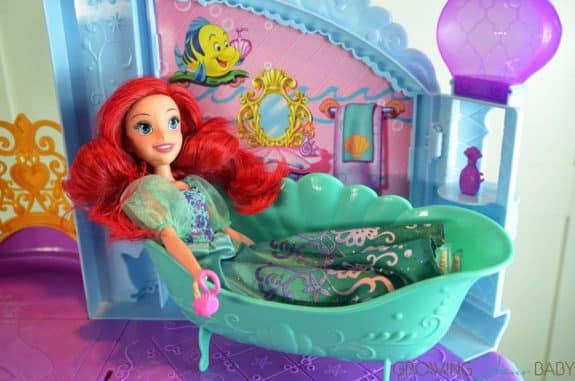 The Royal Dreams Castle is a great play space for kids who are looking to re-create some of the scenes from their favorite movies or dream up new ones!
While it does come furnished, there is some open space still available for them to add some additional accessories to make it their own.
Hasbro also sells the Beauty and the Beast with Belle's Be Our Guest Dining Set and Cinderella's Enchanted Vanity Set that would both add some charm to this set!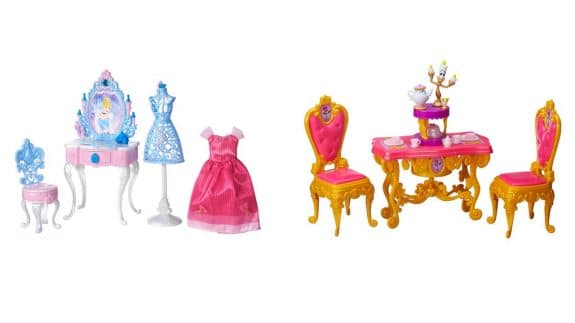 *The Disney Princesses shown with castle are not included.