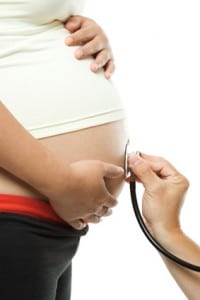 According to Dutch researchers, older women are more likely to have larger babies than younger women. This could be important news as the number of babies born to older women continues to grow.
The older the mother, the more likely she is to have a large baby. That is what researcher Rachel Bakker of the Erasmus Medical Centre in Rotterdam, the Netherlands, concluded after studying over 8,500 women. What they found was that age had an important part in what size a baby would be at birth.
Older moms, those over age 35, were more likely to have larger babies that young women. Mothers under 30 had a 3 percent rate of larger babies. Women ages 30-35, this went up to 6 percent. Moms in their 40s saw an increase up to 10 percent. It seemed clear that older moms were having more larger babies that younger mothers.
The results went the other way as well. Younger mothers were more likely to have small babies than older mothers. While 4 percent of mothers ages 30-35 had small infants, women under 20 had small babies at 7 percent.
Social factors may play a part ion why younger mother shave smaller babies, but researchers could not find an outside reason why older mothers would have more larger babies. Some suspect it may be something in the women's bodies causing this, but more research is needed to find what the exact cause could be.
According to Bakker, this does not mean there is an optimal time to have babies based on size. Many outside factors can come into play to determine the size of a baby at birth. Smoking, environment, diet, and genetics can all come into play in the growth of a baby before birth.- Summer, staff writer
Related Articles:
---
[ad]