Even the most diligent parent can lose track of an energetic child if they get a head of you at a busy mall or market. While that time-suspending chill can prevent a parent from thinking clearly, the police suggest parents be prepared ahead of time so that they can get help right away.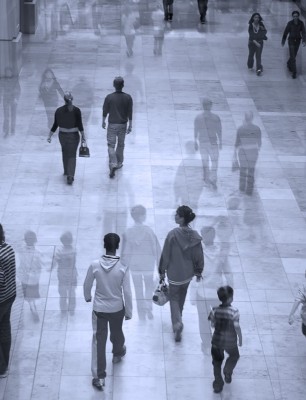 Sgt. John Price of the Victoria, BC Police Department says that even though such terrifying situations almost always end quickly — and well, parents should follow these tips for a successful reunion:
Let your children know what's expected of them, for example, when in a crowded mall.
Dial 9-1-1 when your child seemingly disappears, so police can throw out the search net as soon as possible
Keep a recent photo of their child in their purses or wallets. Police can make copies and then fan out in a crowded mall or park searching for the child. Too often, however, parents don't keep their wallet photos up to date, making it that much harder for searchers to pick out the missing child in a crowd.
Ideally, young kids should know their full name, their parents' names (not just mommy and daddy), address and phone number. That's not always the case. Due to widespread technology, kids don't memorize as their parents did. Cellphones, for example, can be programmed with mom's and dad's work and home numbers, eliminating the need to know the numbers. One solution is to sew a contact information card into the child's backpack.
Teach children early to contact a store cashier or uniformed personnel if unable to find their parents. The child should also know and be known by their neighbours.
They should realize it's safe to flag down a transit bus or police car if they are lost or experience problems.
The good news is that in his 22 year career on the Police force it has been very rare that a child doesn't turn up.
Further, abductions are also very rare, he adds. If they occur, it's usually by an estranged parent.
What your kids should know if they lose you:
Instruct them to stay in one place. They'll be easier to find.
Tell them to call out for you. You may hear them and, if not, their yelling will alert people that they're lost.
Ensure they know your proper name (not just mommy or daddy), address and phone number. Younger kids may not remember such details, so attach their ID or a parent's business card to their backpacks or their clothing
Related Articles: