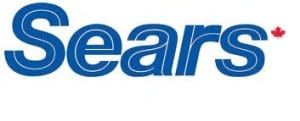 I have shopped at Sears for years.  Their card was one of the first ones I applied for when I was in college.  I also registered there when I was getting married and again when I was pregnant with my son.
So, you would like with all of my shopping that I would have taken note of their point system.  But I didn't.
It wasn't until my girlfriend told me she had redeemed her points for a gift card, that I looked and realized I had enough for a $200 shopping spree at the store. Score!  That year those Sears Club points allowed me to buy gifts for my nieces and nephews at Christmas.
Now, I save my points for the whole year and redeem them just in time for the holidays.  Just like a gift card, your points gift card is like cash.  So you can spend it at the store like you normally would and buy whatever you want – even items on sale or on clearance. And if you have to return something that you have purchased with points, the sales associate just puts the credit amount on a new gift card for you to spend later.
How Do You Earn Sears Club Points?
I have a Sears Mastercard so I earn up to 2% back in rewards every time I shop.  Shopping at Sears with your regular Sears card earns you double points everyday(calculated 2x at 1 base point per $1 spent). Once you have collected 1,000 points you are eligable to redeem them for a $10 gift card towards anything at Sears including travel.  You can even donate your points to Sick Kids Hospital, Boys and Girls Club of Canada or Sears in your community.
There are two ways to keep track of your points; at the bottom of your statement there should be a total and through chaseloyalty.com/searsclub.  I now do the latter as it also allows me to redeem my points quickly and easily.
Don't be a gift card hoader(like me) because once your card arrives it is important to use it within 6 months or else you will lose your your points, a sad fact I learned a couple years ago.
I am sure many of you are Sears shoppers.  Do you use your Sears points?
Disclosure – I am participating in the Sears Club Points program by Mom Central Canada. I received compensation for my participation in this campaign. The opinions on this blog are my own.
---
[ad]