Born right at the stroke of midnight, Harley Daniel Sparks became the first birth of 2013 in Bay Area. But what added to the delight was that it was his very own great grandmother who delivered him!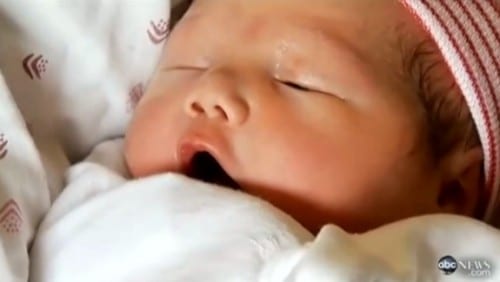 Kara Jeter gave birth to Harley via C-section right at the stroke of midnight on new year's eve and her grandma, Dr. Debra Stewart not only became a great-grandmother with the baby's birth, but she was the one who delivered him.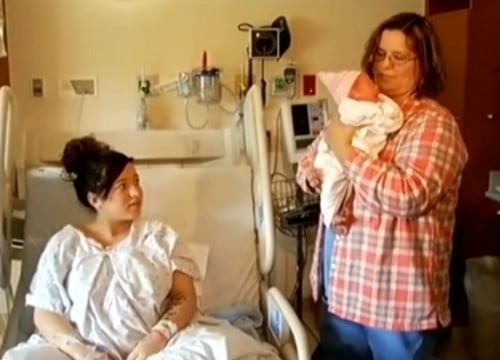 "It was a great experience, I would have never thought this would happen," she said.
"I've delivered New Year's babies before, but it's special when it's your own grandchildren," said Dr. Stewart, "This will be a hard new year to top."
Harley was born 8 pounds 25 ounces and has been named after his father Thomas Harley Sparks.
Baby Harley was due on Jan 3rd but on New Year's eve Kara's water broke at noon. After 10 hours of labour where there were still no signs of a baby, Dr. Stewart, her doctor and her grandmother scheduled a C-section for midnight.
"It was definitely exciting," said Stewart to abc news. "When he was born, we sort of forgot it was the new year because it was somebody's birthday."
Being her first child, Kara was a bit scared too but the fear turned to happiness on hearing the baby cry.
"When I heard his cry, the first cry, I just started crying and didn't even think of my stomach still open," said Kara. "I forgot all about it."
Dr. Stewart began her career as a labor nurse and after 16 years in the job, decided to put herself through medical school and become an obstetrician-gynecologist. For the past 11 year she has been practicing at Sutter Delta Medical Center in Antioch, where she lives. Kara and Thomas live in Bakersfield, Calif., about 250 miles south of Antioch and were visiting for Christmas.
Angela Lombardi, spokeswoman for Sutter Delta Medical Center said,
"This is one of those very rare, warm and fuzzy stories that will put a smile on your face. Harley Daniel was born right on the dot at 00:00. What a way to ring in the new year. Then we hear that Kara, the mother, is Dr. Stewart's granddaughter, so that means Dr. Stewart just delivered her great-grandson, and the story just kept getting better."
Stewart though is not delivering a family member for the first time. Out of her eight grandchildren, Stewart has delivered seven of them as well as her three great-grandchildren, so Harley is the 10th in the family to be delivered by granny.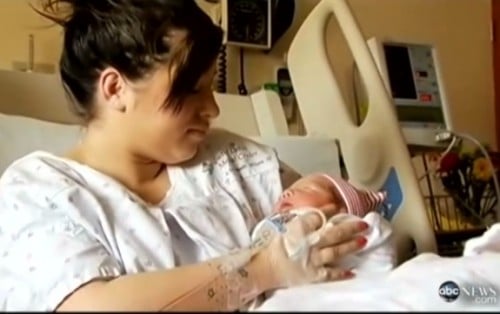 "God is good. It's definitely a miracle, and when you see it happen within your own family it's pretty special," said Stewart. "I feel blessed."
"It's a blessing that my grandma was the one who delivered my son," said Jeter. "She was there for me the whole time and she didn't leave my side ever."
The baby and mom are still in the hospital but will be home soon.
---