First-time parents Rasha and Shadi Elkranawi were unaware of their baby's congenital defects until he was born. To save the newborn, doctors at Sheba Medical Center's Edward and Lily Safra Children's Hospital used a sophisticated medical instrument worth $200,000 to pump the baby's heart and breathe for him.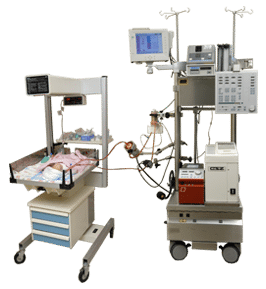 Three weeks ago the baby boy was born full term weighing 2.6 Kg at Soroka University Medical Center in Beersheba. But soon after his arrival his condition deteriorated and medics found that the newborn had diaphragmatic hernia – a congenital defect that causes the intestine to move up into the chest cavity and put pressure on the baby's lungs.
Shortly after birth, in a bid to save his life, the doctors at the small hospital recommended transferring him to Sheba where the rare operation and post-operative care could be performed.
Without wasting time the transfer was coordinated and four expert surgeons, who were off on vacation, were called back to help save the baby's life.
The team then performed a two-hour surgery to push the intestine back to the abdomen and then hooked him up to an extracorporeal membrane oxygenation (ECMO) device that is designed to help newborns with severely damaged hearts and lungs breathe and pump blood artificially.
To avoid cutting his chest, doctors attached the device to the baby via arteries from the neck and the machine allowed him to live and breathe for four days. Gradually as his condition improved, the supply of oxygen from the machine was lowered till he could breathe on his own and his heart beat without the device.
Now three weeks old, the baby is recovering well according to doctors.
Prof. Gideon Paret, head of the medical center's pediatric intensive care department said,
"He's a very sweet baby and his parents are very grateful. Where else in the world would medical teams bother to save a newborn from the middle of nowhere and suffering from such a congenital defect – and give him the absolute best treatment available to save him?"
Thanks to this amazing machine and the skillful doctors, the baby will be home within the next week and won't need any special treatment or equipment as he recovers.
– Atula, Staff Writer
Related Articles: