Doctors have saved the life of a Texas baby with an amazing surgery that allowed the baby to be half born called the Exit Procedure.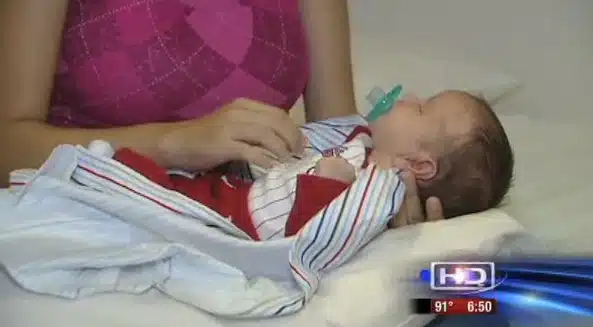 Baby Cagan was diagnosed with a huge mass in the chest in utero. Doctors were concerned because it was already pushing on the heart and most of the baby's lung. If they left it untreated, he would have died because during pregnancy, the baby doesn't have to breathe. The placenta does all of the work. But as soon as they are delivered, they have to take a breath, cry and do the things baby's do, which is impossible to do if there is a 'football' lodged in their chest.
During the surgery, Cagan was "half" born, his head and shoulders were lifted out of his mom Marissa's body, but he stayed connected to the umbilical cord.
"The baby's being supported on the placenta. The baby doesn't have to breathe," said fetal surgeon Dr. Olutoye.
He removed the tumor which included one-third of Cagan's lungs in just 18 minutes. Then the baby's cord was cut, he was completely delivered, and he could breathe.
At Texas Children's Hospital, they've done more than a dozen of these Exit Procedures to save babies who likely would not have survived after their birth.
Doctors say that Cagan's lung will regenerate and he will look like a normal baby.
"The mass is out. His lungs are working well. He should have all this behind him," said Dr. Olutoye.
The exciting part about all of this is that Cagan should be able to go home just two weeks after his original due date.
Related Articles: